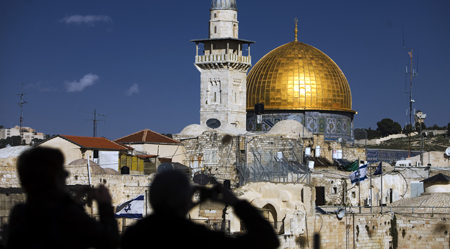 WASHINGTON, USA – Secretary of State Hillary Clinton has announced that indirect Israel-Palestine talks will be launched on Monday, as regional and international momentum grows for new action on ending the long-running conflict.
US Special Envoy George Mitchell expected to hold separate 'proximity' talks with Israeli and Palestinian leaders in bid to bring both sides into direct negotiations later this year.
Arab League endorses US diplomatic efforts, as Israel faces growing pressure from key ally; Israeli daily Haaretz reports today that the White House has informed European leaders that an international conference on the Middle East may be convened by the US later this year if no progress is made during Israel-Palestine talks.
Separately, Jerusalem Post reports that Palestinian President Mahmoud Abbas may be preparing to ask the United Nations to recognize an independent Palestinian state within its 1967 borders; move may jeopardize parallel negotiation process with Israel.
Analysts available for comment:
DANIEL LEVY is Director of the Middle East Task Force at the New America Foundation. He is the former special advisor and head of Jerusalem Affairs for Ehud Barak, and official Israeli negotiator at the Oslo  and Taba peace talks. See full bio…
CONTACT: daniel.levy@theglobalexperts.org
Location: Washington, D.C., USA



RAMZI KHOURY is a special advisor to Mahmoud Abbas, president of the Palestinian Authority. He is based in Ramallah, West Bank. Previously,  he has worked as a strategic communications consultant, journalist and columnist. He is also the CEO of Strategy Falcons LLC, an Arab strategic communications company based in Dubai, with offices throughout the region. See full bio…
CONTACT: ramzi.khoury@theglobalexperts.org
Location: Ramallah, Palestine



MEIR JAVEDANFAR is Director of the Middle East Economic and Political Analysis Company, which carries out analysis of 16 Middle Eastern countries from its offices in Tel Aviv, Israel. He speaks Farsi, English, Spanish and Portuguese fluently, and has commented in all of these languages for a wide range of international media organizations including CNN, FOX News, BBC, Sky News, ABC, Associated Press, Los Angeles Times, NPR, The New York Times and others. See full bio…
CONTACT: m.javedanfar@theglobalexperts.org
Location: Tel Aviv, Israel



REZA ASLAN is a Middle East analyst for CBS News, and a fellow at the University of Southern California's Center on Public Diplomacy. He is an internationally acclaimed writer and scholar of religions, and holds degrees in religion from Santa Clara University, Harvard University, and the University of California, Santa Barbara, as well as a Master of Fine Arts from the University of Iowa, where he was named the Truman Capote Fellow in Fiction. See full bio…
CONTACT: reza.aslan@theglobalexperts.org
Location: Santa Monica, California, USA



OLIVER MCTERNAN is the director and co-founder of Forward Thinking, a UK based organization that works to prevent and resolve conflict at a national and global level and to promote understanding between cultures. He is former senior advisor to the Club of Madrid, a group of former Heads of State and Government who are committed to supporting governments in transition to democracy, and Senior Associate Fellow of the UK Defense Academy. In 2002 he initiated the first post-Kosovo diplomatic talks between the Serbian government and NATO. He broadcasts regularly on the BBC and Al Jazeera, and is a freelance contributor to The Guardian. See full bio…
CONTACT: oliver.mcternan@theglobalexperts.org
Location: London, UK



ELAZAR BARKAN is Co-Director of the Center for the Study of Human Rights and Professor of International and Public Affairs, at Columbia University, New York. He is a frequent commentator on issues related to the Israel-Palestine conflict. See full bio…
CONTACT: elazar.barkan@theglobalexperts.org
Location: New York, USA



Latest articles from Editor