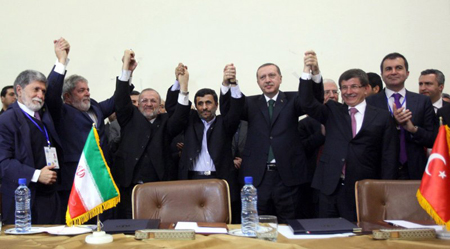 TEHRAN, IRAN: Attempting to ward off further international sanctions, Iran has reached an agreement with Turkey and Brazil to send uranium abroad for enrichment.
Turkish Prime Minister Recep Tayyip Erdogan and Brazilian President Luiz Inacio Lula da Silva reached deal with Iranian President Mahmoud Ahmadinejad at talks in Tehran.
Under the deal, Iran will ship low-enriched uranium to Turkey, in return for higher enriched nuclear fuel; details of plan to be given to IAEA within one week.
Turkey and Brazil now opposed to further UN Security Council sanctions; White House says deal does not go far enough, while France continues to lead work on drawing up fourth round of sanctions.
Analysts say agreement is tactic by Iran to evade further international pressure, and deal does not include halt in uranium enrichment.
Analysts available for comment:
MEIR JAVEDANFAR is Director of the Middle East Economic and Political Analysis Company, which carries out analysis of 16 Middle Eastern countries from its offices in Tel Aviv, Israel. He is the co-author of The Nuclear Sphinx of Tehran – Mahmoud Ahmadinejad and The State of Iran, an investigation into the mysterious past of President Mahmoud Ahmadinejad as well as the state of Iran's nuclear program. He speaks Farsi, English, Spanish and Portuguese fluently, and has commented in all of these languages for a wide range of international media organizations. See full bio…
m.javedanfar@theglobalexperts.org
Location: Tel Aviv, Israel




HUGH POPE is the Turkey Project Director for International Crisis Group. Based in Istanbul, he is a specialist on Turkish foreign policy, including EU-Turkey relations, Cyprus and Turkey's ties with its neighbours. Until taking up this post in 2007, Pope was a foreign correspondent for 25 years, most recently spending a decade as Turkey, Middle East and Central Asia Correspondent for The Wall Street Journal. See full bio…
hugh.pope@theglobalexperts.org
Location: Istanbul, Turkey




ALEX VATANKA is Middle East Senior Analyst for IHS Jane's, the only civilian organization to have an office in the Pentagon. Vatanka specializes on the geopolitics of the Middle East, and the security situation in Iran, Afghanistan and the Gulf Cooperation Council states. He is the managing editor of Jane's Islamic Affairs Analyst. He is a specialist on Iran, the GCC states, Middle East regional affairs, and US policy on Middle East. See full bio…
alex.vatanka@theglobalexperts.org
Location: Washington, DC, USA




ARANG KESHAVARZIAN is Associate Professor of Middle Eastern Studies at New York University. He is a specialist on Iran's internal politics and political economy. His recent book, entitled Bazaar and State in Iran: The Politics of the Tehran Marketplace analyzes the socioeconomic structure of the Tehran Bazaar under both the Pahlavi monarchy and the current Islamic Republic.
arang.keshavarzian@theglobalexperts.org
Location: New York, USA




REZA ASLAN is a Middle East analyst for CBS News, and a fellow at the University of Southern California's Center on Public Diplomacy. He is an internationally acclaimed writer and scholar of religions, and holds degrees in religion from Santa Clara University, Harvard University, and the University of California, Santa Barbara, as well as a Master of Fine Arts from the University of Iowa, where he was named the Truman Capote Fellow in Fiction. See full bio…
reza.aslan@theglobalexperts.org
Location: Santa Monica, California, USA




ROBIN NIBLETT is the director of Chatham House (the Royal Institute of International Affairs) the UK's leading foreign policy thinktank. He is based in London. Chatham House was founded in 1920 and provides independent analysis of current developments in international affairs. He previously served as executive vice president of the Center for Strategic and Intelligence Studies, Washington D.C. See full bio…
robin.niblett@theglobalexperts.org
Location: London, UK
Latest articles from Editor