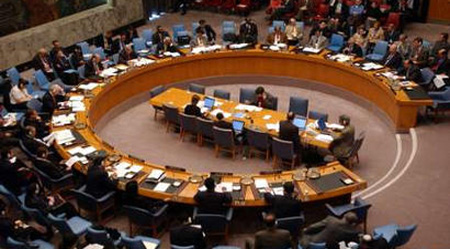 UNITED NATIONS, NEW YORK: The UN Security Council is voting on a draft resolution imposing a fourth round of sanctions on Iran in response to its nuclear defiance.
Sanctions vote is all but certain to pass, after receiving support from the five permanent, veto-wielding members of the Council: the US, UK, France, China and Russia.
Resolution would impose new financial restrictions on Iran, expand an existing arms embargo, and authorize greater stop and search of Iranian cargo ships.
Brazil and Turkey, both non-permanent members of the Security Council, oppose new resolution, which ignores a proposed nuclear fuel swap agreed by the two countries with Iran last month.
Analysts available for comment:
MEIR JAVEDANFAR is Director of the Middle East Economic and Political Analysis Company, which carries out analysis of 16 Middle Eastern countries from its offices in Tel Aviv, Israel. He is the co-author of The Nuclear Sphinx of Tehran – Mahmoud Ahmadinejad and The State of Iran, an investigation into the mysterious past of President Mahmoud Ahmadinejad as well as the state of Iran's nuclear program. He speaks Farsi, English, Spanish and Portuguese fluently, and has commented in all of these languages for a wide range of international media organizations. See full bio…
m.javedanfar@theglobalexperts.org
Location: Tel Aviv, Israel




ARANG KESHAVARZIAN is Associate Professor of Middle Eastern Studies at New York University. He is a specialist on Iran's internal politics and political economy. His recent book, entitled Bazaar and State in Iran: The Politics of the Tehran Marketplace analyzes the socioeconomic structure of the Tehran Bazaar under both the Pahlavi monarchy and the current Islamic Republic.
arang.keshavarzian@theglobalexperts.org
Location: New York, USA




REZA ASLAN is a Middle East analyst for CBS News, and a fellow at the University of Southern California's Center on Public Diplomacy. He is an internationally acclaimed writer and scholar of religions, and holds degrees in religion from Santa Clara University, Harvard University, and the University of California, Santa Barbara, as well as a Master of Fine Arts from the University of Iowa, where he was named the Truman Capote Fellow in Fiction. See full bio…
reza.aslan@theglobalexperts.org
Location: Santa Monica, California, USA




PAUL SULLIVAN is a professor at National Defense University, the top US military education institution. He is an internationally recognized expert on military-security issues and the Middle East, and has published widely on US-Middle East relations. He is a former member of the Fusion Group on Public Diplomacy at the U.S. State Department. See full bio…
paul.sullivan@theglobalexperts.org
Location: Arlington, Virginia, USA

Latest articles from Editor