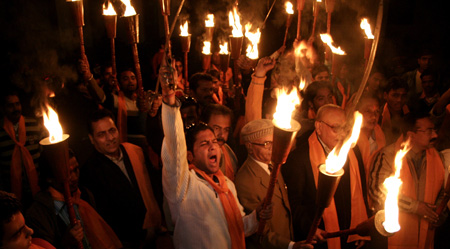 INDIA – Indian judges have ordered that the disputed holy site of Ayodhya be divided between Hindus and Muslims, in the conclusion of one of the most controversial legal cases in the history of the country.
Court orders site to be divided into three; Hindus, the minority Hindu sect Nirmohi Akhara, and Muslims will each control a third.
Muslim community is barred from rebuilding a 16th century mosque which was destroyed by Hindu extremists in 1992; destruction 18 years ago resulted in 2000 deaths and India's worst religious rioting since independence.
Muslim and Hindu claimants to appeal ruling.
Widespread fears of public unrest; many schools and offices closed, Indian army and police deployed across country, and 10,000 precautionary arrests carried out.
Political and religious leaders from all factions call for calm.
Analysts available for comment:
JAVEED ALAM is chairman of the Indian Council of Social Science Research, as well as chairman of the Expert Group on Minorities for the government of Kerala. He is a specialist on Indian politics and society, and frequently comments on Hindu-Muslim relations. He is the author of India: Living With Modernity.
javeed.alam@theglobalexperts.org
Location: New Delhi, India
Languages: English, Urdu




CHARU LATA HOGG is a Fellow of the Asia Programme at Chatham House, the Royal Institute of International Affairs. A graduate of Hindu College, University of Delhi and the London School of Economics and Political Science, she is an expert commentator on political, security and human rights issues in India. She is former South Asia Researcher for Human Rights Watch, and has worked in India and Sri Lanka for over 12 years. View full bio…
charu.hogg@theglobalexperts.org
Location: London
Languages: English, Hindi




SAMINA AHMED is South Asia Project Director for International Crisis Group. She leads a team of analysts focusing on examination of political, security and stability issues throughout South Asia, including problems of authoritarianism; Islamic extremism, domestic and regional terrorism; educational, security sector reform; and the US and NATO interventions. View full bio…
samina.ahmed@theglobalexperts.org
Location: Islamabad, Pakistan
Languages: English, Urdu




CATHARIN DALPINO is Professor of Southeast Asian Studies at the Edmund A. Walsh School of Foreign Service and former US Deputy Assistant Secretary of State and a former Fellow at the Brookings Institution. She is an expert on Southeast Asian security, regional relations and domestic politics. View full bio…
catharin.dalpino@theglobalexperts.org
Location: Washington DC, USA
Languages: English




CAROOL KERSTEN is a religious historian and lecturer in Islamic Studies at King's College London. He is a specialist on Islamic thought and current affairs in Southeast Asia. He is the author of a blog on alternative Islamic discourses, Critical Muslims. View full bio…
carool.kersten@theglobalexperts.org
Location: London, UK
Langauges: English, Dutch

Latest articles from Editor