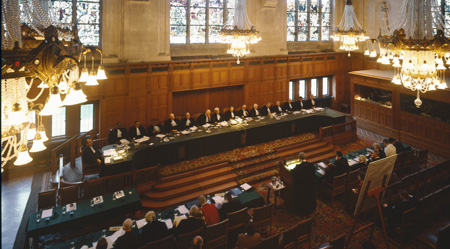 THE HAGUE, NETHERLANDS – The International Court of Justice has ruled that the unilateral declaration of independence by Kosovo in September 2008 does not violate international law.
Although ruling was non-binding, it is expected to lead to more countries recognizing Kosovo; only 69 out of 192 countries currently recognize the state.
Ruling could set dramatic legal precedent for recognition of separatist movements around the world, including in South Ossetia, Abkhazia, Northern Cyprus, Somaliland and Spain.
ICJ does not rule on whether states have to recognize Kosovan independence, merely ruling that the declaration itself was not illegal.
Ruling could lead to renewed tensions between Kosovar Albanians and Serb minority; clashes earlier this month in ethnically divided city of Mitrovica resulted in 1 death and multiple injuries; NATO peacekeepers on alert for violence resulting from ruling.
Analysts available for comment:
PAOLA GAETA is Professor in International Law at Florence University and Professor of International Criminal Law at the Law Faculty of Geneva, in addition to being Director of the LL.M. Program of the Geneva Academy of International Humanitarian Law and Human Rights. She has previously worked at the Appeals Chamber of the International Criminal Tribunal for the former Yugoslavia.
paola.gaeta@theglobalexperts.org
Location: Geneva, Switzerland




IAN BANCROFT is the co-founder of TransConflict, an organization undertaking conflict transformation projects and research throughout the Western Balkans. He has written frequently on the issue of minorities and integration efforts in Kosovo.
ian.bancroft@theglobalexperts.org
Location: London, UK




MARKO PRELEC is Balkans Project Director for International Crisis Group. He is a former tutor at the United States Naval Academy in Annapolis, Maryland, and from 1999 to 2005, he was a Research Officer in the Office of the Prosecutor of the International Criminal Tribunal for the former Yugoslavia. In 2005, he established the Research and Analysis Section of the Prosecutor's Office of Bosnia and Herzegovina and served as its leader, supervising research into crimes committed against each of the ethnic communities in Bosnia and Herzegovina.
media@crisisgroup.org
Location: Sarajevo, Bosnia and Herzegovina




DAVID RIEFF is Senior Fellow for the World Policy Institute, and a board member for Human Rights Watch. He is a specialist on the Balkans, particularly Bosnia and Kosovo, as well as humanitarian aid issues. He frequently comments on European and US policy towards the region.
david.rieff@theglobalexperts.org
Location: New York, USA




CHARLES KUPCHAN is Professor of International Affairs at Georgetown University.  He is also Senior Fellow at the Council on Foreign Relations. He served as Director for European Affairs on the US National Security Council during the first Clinton administration. He is the author of How Enemies Become Friends: The Sources of Stable Peace (2010) and The End of the America Era: U.S. Foreign Policy and the Geopolitics of the Twenty-first Century (2002).
charles.kupchan@theglobalexperts.org
Location: Washington, DC, USA
Latest articles from Editor