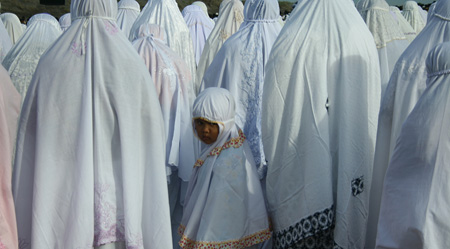 JAKARTA, INDONESIA – The use of Islamic law in the Indonesian province of Aceh has resulted in widespread human rights abuses according to Human Rights Watch.
Laws imposing strict Islamic dress codes and prohibiting unrelated individuals of opposite genders from sharing isolated spaces have led to arbitrary arrests, abuse and torture according to report.
Human Rights Watch calls on Indonesian government to repeal the two laws, but takes no position on Sharia law.
Sharia legal officers and police in Aceh dismiss report, but Indonesian government says it is reviewing local laws that could conflict with national constitutional rights.
Indonesia is the world's most populous Muslim country but is politically secular.
Analysts available for comment:
KEN ROTH is Executive Director of Human Rights Watch. He previously served as a federal prosecutor for the U.S. Attorney's Office for the Southern District of New York and the Iran-Contra investigation in Washington. See full bio…
kenneth.roth@globalexpertfinder.org
Location: New York, USA
Languages: English, French




DEWI FORTUNA ANWAR is former spokesperson for the President of Indonesia. She now serves as Research Director for the Habibie Center, a Jakarta-based thinktank focusing on Indonesian public policy and democratization. See full bio…
dewifortuna.anwar@globalexpertfinder.org
Location: Jakarta, Indonesia
Languages: English, Indonesian




ENDY BAYUNI is the former chief editor of The Jakarta Post, Indonesia's leading independent English language newspaper, and a former Indonesia correspondent for Reuters and Agence France Presse. He continues to write regularly on Indonesian domestic politics, including political Islam and foreign policy. See full bio…
endy.bayuni@globalexpertfinder.org
Location: Jakarta, Indonesia
Languages: English, Indonesian




SIDNEY JONES is senior advisor for the Asia program at International Crisis Group. She is an expert on security in South-East Asia, particularly Islamic extremism in Indonesia. She previously served as Asia Director for Human Rights Watch (1989-2002), and has closely examined separatist conflict in Aceh. See full bio…
sidney.jones@globalexpertfinder.org
Location: Jakarta, Indonesia
Languages: English



Latest articles from Editor