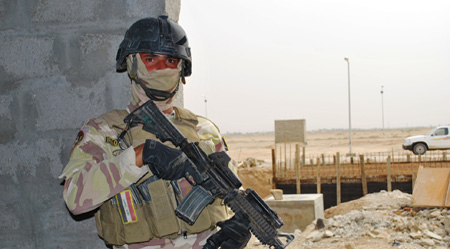 BAGHDAD, IRAQ – The Islamic State of Iraq (ISI) has claimed responsibility for an attack on a Catholic church in Baghdad which claimed the lives of at least 52 civilians.
Our Lady of Salvation church in the Karrada neighbourhood of central Baghdad was stormed on Sunday by the ISI, the name that Al Qaeda in Iraq now operates under.
Around 100 members of the congregation held hostage for 2 hours while attackers demanded release of Al Qaeda prisoners in Iraqi and Egyptian jails.
Iraqi police entered church after 2 hours; but many hostages had already been killed; all 8 terrorists reported to have detonated suicide vests.
Attack follows pattern of recent threats and ongoing persecution of Iraq's Christian community.
Analysts available for comment:
MICHAEL O'HANLON is senior author of the Iraq, Afghanistan, and Pakistan Index projects at the Brookings Institution. He has commented frequently for the media on developments in the Kurdistan region. He previously served as a national security analyst for the Congressional Budget Office and the Secretary of State's International Security Advisory Board.
michael.ohanlon@theglobalexperts.org
Location: Washington, DC, USA
Languages: English, French, Arabic




MARK FOWLER is an Associate at Booz Allen Hamilton and a former senior CIA officer. He is a Middle East specialist and served numerous tours overseas and in Washington DC. He has particular expertise on Iran and Iraq, and speaks Farsi. Mr. Fowler currently leads Booz Allen Hamilton's 'Persia House,' a Center of Excellence on Iran and the Persian Gulf. See full bio…
mark.fowler@theglobalexperts.org
Location: Washington DC, USA
Languages: English, Farsi




ABDALLAH SCHLEIFER is a veteran journalist who has covered the Middle East for American and Arab media for more than thirty years. From 2006 to 2007, he was Washington Bureau Chief for the Al Arabiya TV network, and has previously worked for NBC, The New York Times, and The Jerusalem Star. He currently serves as Professor Emeritus at the American University in Cairo. See full bio…
abdallah.schleifer@theglobalexperts.org
Location: Cairo, Egypt
Languages: English, Arabic




MEIR JAVEDANFAR is Director of the Middle East Economic and Political Analysis Company, which carries out analysis of 16 Middle Eastern countries from its offices in Tel Aviv, Israel. He is co-author of The Nuclear Sphinx of Tehran: Mahmoud Ahmadinejad and The State of Iran, an investigation into the state of the Iranian nuclear program. See full bio…
m.javedanfar@theglobalexperts.org
Location: Tel Aviv, Israel
Languages: English, Farsi, Spanish, Portuguese




RENE GUITTON is an acclaimed author and scholar focusing on the subject of interfaith relations and social integration. He has frequently commented on issues relating to Christian communities in the Middle East. In 2002 he was awarded the Academie Francaise – Montyon Prize for philosophy and literature. He grew up in North Africa and today lives in Paris. See full bio…
rene.guitton@theglobalexperts.org
Location: Paris, France
Languages: English, French



Latest articles from Editor