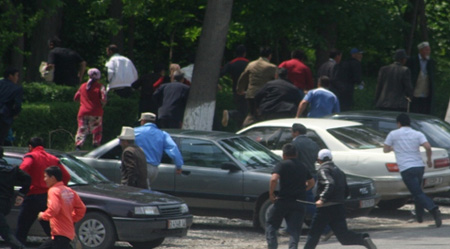 OSH, KYRGYZSTAN – At least 23 people are dead and more than 300 have been injured after clashes in the southern city of Osh.
More than 1000 people armed with guns and melee weapons attacked shops, cars and passers-by, in violence that continued overnight.
Fighting was reportedly between ethnic Kyrgyz and ethnic Uzbeks in the city.
Osh is Kyrygyztan's second-largest city, and roughly divided between Uzeks and Kyrgyz; violence between the two communities resulted in hundreds of deaths during the 1990s.
State of emergency declared and troops deployed; incoming reports suggest soldiers have not yet managed to restore order.
Violence indicates continuing instability of country and most severe test of provisional government since the overthrow of President Kurmanbek Bakiyev in April.
Russian and Chinese governments appeal for calm.
Analysts available for comment:
ASHER PIRT is an expert on Central Asian Affairs and military issues, and has commented extensively for the international media during the recent Kyrgyzstan unrest. He has recently served on deployment as a regional OSCE observer. He has travelled extensively throughout the former Soviet republics, and comments frequently for the media on regional security issues.
asher.pirt@theglobalexperts.org
Location: London, UK




RACHEL DENBER is deputy director of the Europe and Central Asia Division for Human Rights Watch. Previously, Denber directed Human Rights Watch's Moscow office. She has carried out field research and advocacy in Kyrgyzstan, and authored reports on a wide range of human rights issues throughout the region.
+1 202-216-1266
denberr@hrw.org
Location: New York, USA
ALEXANDER COOLEY is associate professor of politics at Columbia University. He is a specialist on Central Asia, and the political issues regarding US overseas military bases. He has previously commented for the New York Times, AFP, IHT, NPR and other major media outlets on Kyrgyzstan.
+1 212-854-9544
ac210@columbia.edu
Location: New York, USA
ALEX GABUEV is political correspondent for Kommersant, the leading Russian business newspaper. He formerly served as China correspondent for the newspaper. He has published more than 700 articles covering all aspects of Russian domestic and foreign policy.
alexander.gabuev@theglobalexperts.org
Location: Moscow, Russia
Latest articles from Editor