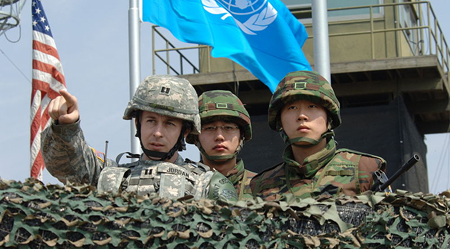 KOREAN BORDER – South Korea has threatened the North with 'massive retaliation' for the killing of 2 marines in an artillery barrage.
Northern artillery began shelling Yeonpyeong Island across the Korean maritime border at 1434 local time (0534 GMT).
At least 50 shells landed on the island, striking a South Korean military base; 16 marines were injured, and 3 civilians, in addition to the 2 confirmed deaths.
South Korea returned fire with 80 shells and scrambled fighter aircraft.
United States, Russia, European Union condemn North Korea.
Emergency session of UN Security Council to be held Tuesday or Wednesday.
Clash is one of the worst since the Korean armistice, and takes place at time of high regional tension.
Analysts available for comment:
JAE HO CHUNG is associate professor at Seoul National University's Department of International Relations. He has advised many South Korean government agencies, including the National Security Council and Ministry of National Unification. He is the author of Between Ally and Partner: Korea-China Relations and the United States (Columbia University Press, 2007).
jh.chung@globalexpertfinder.org
Location: Seoul, South Korea
Languages: English, Korean




ROLAND BLEIKER is Professor of International Relations at the University of Queensland, Brisbane. He is a former Swiss diplomat, and worked for two years in the Swiss diplomatic mission at Panmunjom, inside the Korean DMZ. His academic research now focuses on issues of trauma, conflict and reconciliation in divided societies, such as Korea.
roland.bleiker@globalexpertfinder.org
Location: Brisbane, Australia
Languages: English, German




KATY OH is a researcher at the Institute for Defense Analyses and Senior Fellow at the Brookings Institution. She is an expert on North Korean politics and economy, South Korean politics and economy, Inter-Korean relations and U.S. foreign and security policy toward East Asia. Dr. Oh has presented briefings to the US Departments of State, Defense, and Energy. See full bio…
katy.oh@globalexpertfinder.org
Location: Washington, D.C., USA
Languages: English, Korean, Chinese, Japanese




HAZEL SMITH is Professor of Resilience and Security at Cranfield University, UK. She is a respected international media commentator on issues related to the DPRK and East Asian security. She regularly comments for the BBC, CNN, Voice of America, and Radio Free Asia. See full bio…
hazel.smith@globalexpertfinder.org
Location: Cranfield, UK
Languages: English




LEON SIGAL is Director of the Northeast Asia Cooperative Security Project at the US Social Science Research Council in New York. His book, Disarming Strangers: Nuclear Diplomacy with North Korea, was named the 1998 book of distinction by the American Academy of Diplomacy. See full bio…
leon.sigal@globalexpertfinder.org
Location: New York, USA
Languages: English



Latest articles from Editor