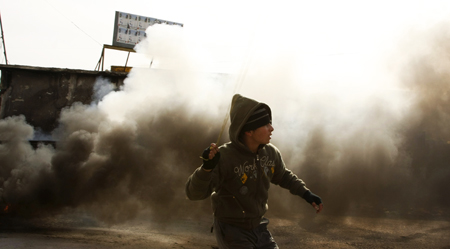 JERUSALEM – One Palestinian has been killed and five others injured in clashes with Israeli settlers in East Jerusalem.
Israeli security guard opened fire in the Silwan neighborhood after stones were thrown at his car; one Palestinian killed.
Silwan is a predominantly Arab neighborhood in Jerusalem, and one of the most volatile areas of the city.
Further clashes erupted between local Palestinians and Jewish settlers; Israeli police deploy tear gas and rubber bullets, injuring several Palestinians.
Violence takes place against backdrop of new round of Israeli-Palestinian peace talks; on Tuesday, Middle East Quartet (EU, US, UN and Russia) called on Israel to extend settlement freeze due to expire at end of September.
Analysts available for comment:
DANIEL LEVY is Director of the Middle East Task Force at the New America Foundation. He is the former special advisor and head of Jerusalem Affairs for Ehud Barak, and official Israeli negotiator at the Oslo  and Taba peace talks. See full bio…
CONTACT: daniel.levy@theglobalexperts.org
Location: Washington, D.C., USA
Languages: English, Hebrew




RAMZI KHOURY is a special advisor to Mahmoud Abbas, president of the Palestinian Authority. He is based in Ramallah, West Bank. Previously,  he has worked as a strategic communications consultant, journalist and columnist. He is also the CEO of Strategy Falcons LLC, an Arab strategic communications company based in Dubai, with offices throughout the region. See full bio…
CONTACT: ramzi.khoury@theglobalexperts.org
Location: New York, USA
Languages: English, Arabic




RASHID KHALIDI is Edward Said Professor of Arab Studies at Columbia University. He is editor of the Journal of Palestine Studies and President of the Middle East Studies Association. Previously, he served as an advisor to the Palestinian delegation to the Madrid and Arab-Israeli peace negotiations from October 1991 until June 1993. He is the author of Sowing Crisis: American Dominance and the Cold War in the Middle East (2009), The Iron Cage: The Story of the Palestinian Struggle for Statehood (2006), and Resurrecting Empire: Western Footprints and America's Perilous Path in the Middle East (2004). See full bio…
rashid.khalidi@theglobalexperts.org
Location: New York, USA
Languages: English, Arabic




MEIR JAVEDANFAR is Director of the Middle East Economic and Political Analysis Company, which carries out analysis of 16 Middle Eastern countries from its offices in Tel Aviv, Israel. He speaks Farsi, English, Spanish and Portuguese fluently, and has commented in all of these languages for a wide range of international media organizations including CNN, FOX News, BBC, Sky News, ABC, Associated Press, Los Angeles Times, NPR, The New York Times and others. See full bio…
CONTACT: m.javedanfar@theglobalexperts.org
Location: Tel Aviv, Israel
Languages: English, Spanish, Portuguese, Farsi




BARAH MIKAIL is a Research Fellow at the Institute for International and Strategic Relations (IRIS). He is a specialist on Middle East issues and is the author of American Policy in the Middle East.
barah.mikail@theglobalexperts.org
Location: Paris, France
Languages: English, French




ROBIN NIBLETT is the director of Chatham House, the UK's leading foreign policy thinktank. He is based in London. Chatham House was founded in 1920 and provides independent analysis of current developments in international affairs. He previously served as executive vice president of the Center for Strategic and Intelligence Studies, Washington D.C. See full bio…
robin.niblett@theglobalexperts.org
Location: London, UK
Languages: English, French
Latest articles from Editor