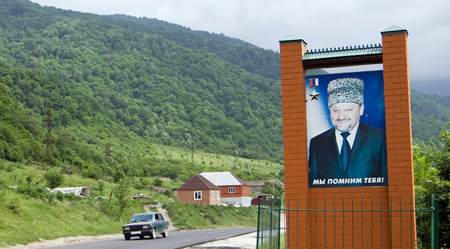 GROZNY, CHECHNYA – Six people are dead and at least ten injured after Islamist militants attacked the parliament of Chechnya, Russia's North Caucasus region.
Suicide bomber detonated outside the parliament as deputies arrived for work on Tuesday morning; gunmen then went on shooting spree inside building before being shot dead.
Attackers reported to have shouted Islamist slogans.
EU condemns attack, pledges to strengthen cooperation with Russia in fight against terrorism.
Analysts say attack shows continued instability of region.
Analysts available for comment:
ASHER PIRT is an expert on Russia and the former Soviet Union, and comments extensively on security issues within the North Caucasus and Central Asia. He has recently served on deployment as a regional OSCE observer. See full bio…
asher.pirt@theglobalexperts.org
Location: London, UK
Languages: English, Russian




ALEX GABUEV is political correspondent for Kommersant, the leading Russian business newspaper. He formerly served as China correspondent for the newspaper. He has published more than 700 articles covering all aspects of Russian domestic and foreign policy. See full bio…
alexander.gabuev@theglobalexperts.org
Location: Moscow, Russia
Languages: English, Russian, Chinese




JAMES GOLDGEIER is Senior Fellow for Transatlantic Relations at the Council on Foreign Relations. He is a specialist on transatlantic relations and US-Russian relations. He is an award-winning author, former State Department official, and staff member of the National Security Council. Professor of political science and international politics at George Washington University. Author of the book America Between the Wars (with Derek Chollet, PublicAffairs Books, June 2008) and the recent Council special report The Future of NATO (January 2010).
james.goldgeier@theglobalexperts.org
Location: Washington, DC, USA
Languages: English, Russian




VITALY NAUMKIN is the president of the International Center for Strategic and Political Studies, Moscow, and an internationally renowned scholar on the Arab and Muslim worlds. See full bio…
vitaly.naumkin@theglobalexperts.org
Location: Moscow, Russia
Languages: English, Russian

EUGENIO BREGOLAT was Spanish Ambassador to Russia from 1992-7. His career in the Spanish foreign service spans 39 years, and he has also previously served as ambassador to Indonesia (1982-7), Canada (1991-2) and China (1999-2003). He currently serves as Ambassador to Andorra.
eugenio.bregolat@theglobalexperts.org
Location: Andorra
Languages: English, Russian, French, Spanish
Latest articles from Editor