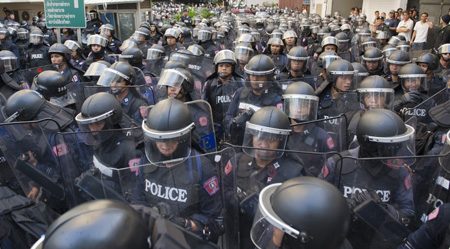 BANGKOK, THAILAND: A Thai army general who backs anti-government protests is shot after a deadline passes for renegade troops to cease their protest in Bangkok.
General Khattiya Sawasdipol is seriously injured after being shot in the head.
Incident reportedly occured while the general was being interviewed by The New York Times.
Red-shirt protestors have been occupying parts of Bangkok since mid-March, demanding dissolution ofparliament and new elections.
Situation on the streets is calm but tense, as pro-government forces beseige the main protest camp.
Analysts available for comment:
PROFESSOR AMITAV ACHARYA is Chair of the ASEAN Studies Program at American University, Washington, D.C. He is a specialist on politics and security in multiple countries throughout Southeast Asia, including Thailand. He frequently comments for CNN International, BBC World Service, Al-Jazeera, CNBC and Channel News Asia. See full bio…
amitav.acharya@theglobalexperts.org
Location: Washington D.C., USA




SIDNEY JONES is senior advisor for the Asia Program at International Crisis Group. Along with a team of other South-East Asia analysts based in Jakarta, she works to provide up to the minute analysis on conflict and violence across the region. She is an expert on terrorism and insurgency issues. See full bio…
sidney.jones@theglobalexperts.org
Location: Jakarta, Indonesia




DR. MICHAEL VATIKIOTIS is regional director for the Henry Dunant Centre for Humanitarian Dialogue. Based in Singapore, he works on promoting dialogue and conflict resolution in Asia. He is a Visiting Fellow at the Institute of Southeast Asian Studies, and former editor of the Far Eastern Economic Review. He has been a writer and journalist in Asia for 20 years.
michael.vatikiotis@theglobalexperts.org
Location: Singapore



Latest articles from Editor