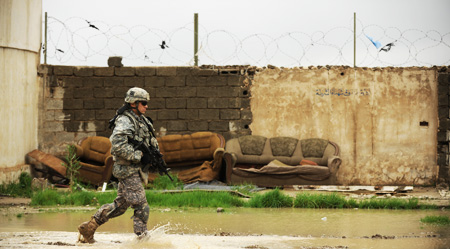 ATLANTA, USA: Barack Obama has announced that the US military will end all combat operations in Iraq at the end of the month.
15,000 US troops will be returning home immediately, with 50,000 remaining until the end of 2011 as military trainers and to defend US interests.
US army is engaged in one of the most complex logistical operations in its history, closing 350 bases and moving 3.9 million pieces of equipment.
Announcement by President Obama comes as fears grow over recent upsurge in violence in the country. Latest Iraqi statistics show that July 2010 was deadliest month in the country since May 2008; US disputes figures.
Failure to form new government since legislative elections in March also poses risk of political instability.
Analysts available for comment:
JOOST HILTERMANN is Deputy Director of the Middle East and North Africa Program at International Crisis Group. He is an expert on Iraq, including issues relating to the political transition, constitutional process and the situation of the Kurds. From 1994-2002, he served as Executive Director of the Arms Control Division at Human Rights Watch. He was the primary researcher for HRW on the 1987-88 Al-Anfal campaign by the Saddam Hussein regime, a campaign that sought to annihilate the Kurdish population in northern Iraq. See full bio…
joost.hiltermann@theglobalexperts.org
Location: Washington, DC, USA




MARK FOWLER is an Associate at Booz Allen Hamilton and senior former officer with the Central Intelligence Agency. He is a Middle East specialist and served numerous tours overseas and in Washington, DC. He has particular expertise on Iran and Iraq, and speaks Farsi. He currently directs Booz Allen Hamilton's 'Persia House,' a center of excellence on Iran and the Persian Gulf. See full bio…
mark.fowler@theglobalexperts.org
Location: Washington, DC, USA




MICHAEL O'HANLON is senior author of the Iraq, Afghanistan, and Pakistan Index projects at the Brookings Institution. He has commented frequently for the media on developments in the Kurdistan region. He previously served as a national security analyst for the Congressional Budget Office and the Secretary of State's International Security Advisory Board.
michael.ohanlon@theglobalexperts.org
Location: Washington, DC, USA

Latest articles from Editor