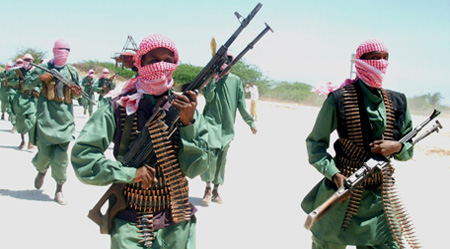 UNITED STATES: US authorities have arrested an undetermined number of people for allegedly planning to join the Somali militant force al-Shabab.
Unconfirmed reports suggest that fourteen suspects have been taken into custody, including 12 from Minnesota and 2 from California.
At least 2 of the suspects are naturalized US citizens originally from Somalia, now living in Minnesota.
Latest arrests follow arrest of Chicago man on Wednesday who was allegedly attempting to become a suicide bomber for al-Shabab.
The al-Shabab movement is linked with Al-Qaeda and controls most of the Somali capital Mogadishu and southern Somalia.
US Justice Department to hold press conference at 12 noon EST with full details; Global Expert analysts available for immediate reaction and analysis.
Analysts available for comment:
BRUNO SCHIEMSKY is former coordinator of the UN Monitoring Group on Somalia, which reported to the UN Security Council. He is currently based in Nairobi, Kenya, as a security consultant. He has had over eighteen years of progressive management experience in conflict and post-conflict countries within Africa. See full bio…
bruno.schiemsky@theglobalexperts.org
Location: Nairobi, Kenya




DAVID SHINN is former US ambassador to Ethiopia and Burkina Faso. He served for 37 years in the US Foreign Service, with assignments in Lebanon, Kenya, Tanzania, Mauritania, Cameroon and Sudan. He was State Department coordinator for Somalia during the first international intervention in the early 1990s, and director of East African affairs in the mid-1990s. See full bio…
david.shinn@theglobalexperts.org
Location: Washington, DC, USA




CATHERINE BESTEMAN is a professor of anthropology and African studies at Colby University. She focuses on the roots of violent conflict and the forces that sustain inequality and produce poverty in Africa. Her first major research project was in southern Somalia in the late 1980s, immediately prior to the civil war.
catherine.besteman@theglobalexperts.org
Location: Colby, USA




SABINE MACHENHEIMER is Sub-Saharan Africa Analyst for IHS Janes. She writes and edits for Janes Sentinel, Janes Intelligence Review, Janes Intelligence Weekly and Janes Country Risk Daily Report. She is available to give analysis and interviews on all dimensions of politics and conflict in Sub-Saharan Africa. See full bio…
sabine.machenheimer@theglobalexperts.org
Location: London, UK




SARJOH BAH is a Senior Fellow and Program Coordinator of African Security Institutions, at New York Universitys Center on International Cooperation. He is a leading authority on security cooperation in Africa with a particular focus on the African Union. He has commented frequently on the situation in Somalia. See full bio…
asarjoh.bah@theglobalexperts.org
Location: New York, USA
Latest articles from Editor