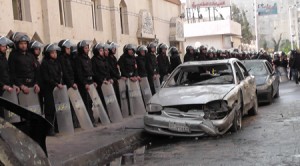 Alexandria, Egypt – At least 21 people were killed and nearly 80 wounded when a bomb exploded outside a Coptic Christian church in Alexandria in the deadliest terrorist attack in Egypt since at least 2006.

- The blast occurred after midnight at the al-Qiddissin (Saints) Church in the northern port city of Alexandria, as worshipers were leaving a New Year's service. Nearly 1,000 had attended the mass.
- Egyptian authorities said that "Foreign elements" appear to have been responsible for the blast, "in light of the escalating threats from al-Qaeda to many countries.", though no group has claimed responsibility yet. Interior minister said the device which exploded was carried by a suicide bomber who died among others.
- Egyptian President H. Mubarak already denounced the attack on state TV and said he intended to track down those behind the attack and cut off the hands of terrorists. Pope Benedict denounced violence against Christians in his New Year address and appealed for religious freedom and tolerance.
- Christians make up about nearly 10 per cent of Egypt's mainly Muslim population of about 80 million, and are increasingly protesting acts of discrimination.

Analysts available for comment:
ABDALLAH SCHLEIFER is a veteran journalist who has covered the Middle East for American and Arab media for more than thirty years. From 2006 to 2007, he was Washington Bureau Chief for the Al Arabiya TV network, and has previously worked for NBC, The New York Times, and The Jerusalem Star. He currently serves as Professor Emeritus at the American University in Cairo.
abdallah.schleifer@theglobalexperts.org
Location: Cairo, Egypt
Languages: English, Arabic
RENE GUITTON is an acclaimed author and scholar focusing on the subject of interfaith relations and social integration. He has frequently commented on issues relating to Christian communities in the Middle East. In 2002 he was awarded the Academie Francaise – Montyon Prize for philosophy and literature. He grew up in North Africa and today lives in Paris.
rene.guitton@theglobalexperts.org
Location: Paris, France
Languages: English, French
ROBERT BOWKER is former Australian ambassador to Egypt (2005-8) and Jordan (1989-92). He was also previously stationed in Saudi Arabia and Syria. He currently serves as Adjunct Professor in the Centre for Arab and Islamic Studies at Australian National University, and is considered a leading expert on social and political issues throughout the region.
bob.bowker@globalexpertfinder.org
Location: Canberra, Australia
Languages: English, Arabic
RASHID KHALIDI is Edward Said Professor of Arab Studies at Columbia University. He is editor of the Journal of Palestine Studies and President of the Middle East Studies Association. He previously served as advisor to the Palestinian delegation to the Madrid and Arab-Israeli peace negotiations from 1991-3. He is the author of Sowing Crisis: American Dominance and the Cold War in the Middle East (2009) and The Iron Cage: The Story of the Palestinian Struggle for Statehood (2006).
rashid.khalidi@theglobalexperts.org
Location: New York, USA
Languages: English, Arabic
JOOST HILTERMANN is Deputy Director of the Middle East and North Africa Program at International Crisis Group. He is an expert on Iraq, including issues relating to the political transition, constitutional process and the situation of the Kurds. From 1994-2002, he served as Executive Director of the Arms Control Division at Human Rights Watch. He was the primary researcher for HRW on the 1987-88 Al-Anfal campaign by the Saddam Hussein regime, a campaign that sought to annihilate the Kurdish population in northern Iraq. joost.hiltermann@theglobalexperts.org
Location: Washington, DC, USA
MONA ELTAHAWY is an award-winning New York-based journalist and commentator, and an international lecturer. Her opinion pieces have appeared frequently in the International Herald Tribune, The Washington Post and the pan-Arab Asharq al-Awsat newspaper and she has also published opeds in The New York Times, the Christian Science Monitor, Egypt's al-Dostour and Lebanon's Daily Star.
mona.eltahawy@theglobalexperts.org
Location: New York, USA
Latest articles from Stephanie