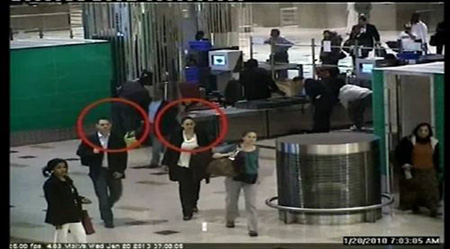 CANBERRA, AUSTRALIA: The station chief of Mossad, the Israeli spy agency, has been expelled by the Australian government in response to the use of forged Australian passports in the murder of a Hamas operative in Dubai.
Senior Hamas official Mahmoud al-Mabhouh was assassinated in Dubai in January.
Israel has been widely implicated in the killing; a team of assasins is believed to have used forged Australian, British, French and Irish travel documents.
Australian Foreign Minister Stephen Smith tells parliament that Israel is responsible for killing and use of Australian passports, and that "this is not the act of friend"; also vows to maintain strong Israel-Australian relationship.
Australia has now joined Britain in expelling a Mossad station chief based in its respective Israeli embassy.
Intelligence sharing has also been suspended between Mossad and ASIO, the Australian spy agencies.
Opposition and Jewish-Israel lobby groups attack government's decision, accusing it of attempting to win international support for seat on UN Security Council.
Analysts available for comment:
RUSSELL SMITH is the Australia-based IHS Jane's Director of Defense and Security. Smith is IHS Jane's Asia Pacific Specialist. He has over 25 years experience in both the defense industry, and the Australian military as an intelligence officer. During his time in the military he served as Australian Defense Attaché to the People's Republic of China, Head of the Intelligence Branch at HQ Northern Command and Director of Army Security. See full bio…
russell.smith@theglobalexperts.org
+61 2-8884-0000
Location: Sydney, Australia




ROLAND BLEIKER is Professor of International Relations at the University of Queensland. He is a specialist on conflict and reconciliation in divided societies, as well as non-western approaches to conflict resolution. He held visiting research and teaching affiliations at Harvard, Cambridge, Humboldt, Tampere, Yonsei and Pusan National University as well as the Swiss Federal Institute of Technology and the Institute of Social Studies in The Hague. See full bio…
roland.bleiker@theglobalexperts.org
+61 7-3365-1068
Location: Brisbane, Australia




DANIEL LEVY is Director of the Middle East Task Force at the New America Foundation. He is former special advisor and head of Jerusalem Affairs for Ehud Barak, and an official Israeli negotiator at the Oslo and Taba peace talks.
daniel.levy@theglobalexperts.org
Location: Washington, D.C., USA




MEIR JAVEDANFAR is Director of the Middle East Economic and Political Analysis Company, which carries out analysis of 16 Middle Eastern countries from its offices in Tel Aviv, Israel. He is a regular contributor to The Guardian, Al Jazeera English and France 24. See full bio…
m.javedanfar@theglobalexperts.org
Location: Tel Aviv, Israel




KEVIN CLEMENTS is the Foundation Chair of Peace and Conflict Studies and Director of the New Zealand Centre for Peace and Conflict Studies at the University of Otago, New Zealand. He is also Secretary General of the International Peace Research Association. Previously, he was Foundation Director of the Australian Centre for Peace and Conflict Studies at the University of Queensland, Australia. See full bio…
kevin.clements@theglobalexperts.org
Location: Dunedin, New Zealand

Latest articles from Editor