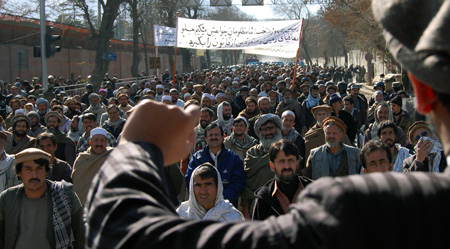 KABUL, AFGHANISTAN – Angry mobs have taken to the streets in Kabul in protest at the deaths of 4 civilians killed in collisions with US embassy vehicles.
Rioters set fire to 2 US embassy cars after one of them crashed into an Afghan civilian vehicle, killing four.
Crowds chanting 'death to America' and 'death to Karzai' clash with security forces. NATO quick reaction force deployed.
Incident could lead to major unrest; similar accident in May 2006 led to massive riots which killed 14 people.
Anti-US riots take place on same day as announcement that July was deadliest month for American forces in the entire Afghan war, with 66 soldiers killed so far.
Analysts available for comment:
SAMINA AHMED is South Asia Project Director for International Crisis Group. She leads a team of analysts focusing on examination of political, security and stability issues throughout South Asia, including problems of authoritarianism; Islamic extremism, domestic and regional terrorism; educational, security sector reform; and the US and NATO interventions.
samina.ahmed@theglobalexperts.org
Location: Islamabad, Pakistan




JOHN DEMPSEY is the United States Institute of Peace senior rule of law adviser in Kabul, Afghanistan. Before USIP, Dempsey was an adviser to the Afghan Ministry of Justice under the USAID Afghanistan Rule of Law Program (2005–2007). He has lived in Afghanistan since 2003.
john.dempsey@theglobalexperts.org
Direct cell phone: +93 799 321 349 begin_of_the_skype_highlighting
Location: Kabul, Afghanistan




PAUL SULLIVAN is a professor at National Defense University, the top US military education institution. He is an internationally recognized expert on military-security issues, and has published widely on US-Middle East relations and the wars in Afghanistan and Iraq. He is a former member of the Fusion Group on Public Diplomacy at the U.S. State Department. See full bio…
paul.sullivan@theglobalexperts.org
Location: Arlington, Virginia, USA




CATHARIN DALPINO is Professor of Southeast Asian Studies at the Edmund A. Walsh School of Foreign Service and former US Deputy Assistant Secretary of State and a former Fellow at the Brookings Institution. She is an expert on Southeast Asian security, regional relations and domestic politics. See full bio…
catharin.dalpino@theglobalexperts.org
Location: Washington, DC, USA




BAQER MOIN has been writing and broadcasting about politics and society in Afghanistan, Iran and Central Asia for more than three decades. From 1990-2004 he was head of the BBC Persian and Pashto Service, responsible for broadcasts to Afghanistan, Iran and Tajikistan. He served as deputy chair of the UN Media Commission for the 2005 Afghan parliamentary elections. See ful bio…
baqer.moin@theglobalexperts.org
Location: London, UK
Latest articles from Editor