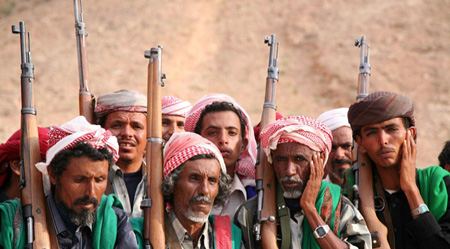 ATAQ, YEMEN – A Yemenese army patrol was ambushed by Al Qaeda gunmen in the eastern city of Ataq.
5 soldiers were killed and 1 injured. The gunmen escaped.
Latest attack takes place against backdrop of mounting violence in the country. 11 people died in June attack on Yemen intelligence headquarters in Aden, and 3 died in attack on security headquarters in Zinjibar; Al Qaeda is believed responsible for both attacks.
51 people have also died over the last 5 days in clashes between Shiite rebels and pro-government tribesmen in northern Yemen.
Analysts question ability of Yemenese government to cope with economic crisis, secessionist movement in the south, Shiite rebellion in the north and Al Qaeda attacks.
Analysts available for comment:
JOOST HILTERMANN is Deputy Director of the Middle East and North Africa Program at International Crisis Group. He is an expert on Iraq, including issues relating to the political transition, constitutional process and the situation of the Kurds. From 1994-2002, he served as Executive Director of the Arms Control Division at Human Rights Watch. He was the primary researcher for HRW on the 1987-88 Al-Anfal campaign by Saddam Hussein's regime — a campaign that sought to annihilate northern Iraq's Kurdish population. See full bio…
joost.hiltermann@theglobalexperts.org
Location: Washington, DC, USA




WILL HARTLEY is the editor of Janes Terrorism and Insurgency Centre (JTIC), based in Washington, D.C. He leads a team responsible for collecting and analysing terrorism and insurgency related open source intelligence, producing country briefings, case study and major terrorist incident reports. See full bio…
will.hartley@theglobalexperts.org
Location: Washington, D.C., USA




HENRY WILKINSON is Associate Director at Janusian Intelligence. He is specialist on Middle East affairs, strategic studies, terrorism, asymmetric warfare, and intelligence, and has frequently commented on the situation in Yemen.
henry.wilkinson@theglobalexperts.org
Location: London, UK




RICHARD BARRETT is an expert on Al Qaeda. He is based in New York City. Since March 2004 he has been the Coordinator of the United Nations Analytical Support and Sanctions Implementation Monitoring Team, also known as the Al Qaeda-Taliban Monitoring Team, appointed by the UN Secretary-General at the request of the Security Council. See full bio…
richard.barrett@theglobalexperts.org
Location: New York, USA




GILLES KEPEL is Professor and Chair, Middle East and Mediterranean Studies, at the Institut d'Études Politiques de Paris (Sciences Po). He is a contributor to the Financial Times, Le Monde, La Repubblica, El Pais, Al Hayat, and a number of Arabic language and international newspapers. Some of his recent publications include: Beyond Terror and Martyrdom:The War for Muslim Minds, Jihad: the Trail of Political Islam and Bad Moon Rising : a Chronicle of the Middle East Today. See full bio…
gilles.kepel@theglobalexperts.org
Location: Paris, France
Latest articles from Editor