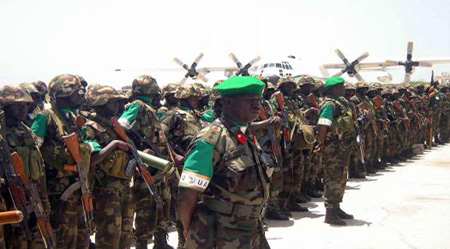 ADDIS ABABA, ETHIOPIA – East African leaders have called for the United Nations to deploy a major peacekeeping force in Somalia.
Somali President Sheikh Shariff Sheikh Ahmed made plea for international help at emergency summit of East African nations on Monday, saying that his government cannot hold off Islamist insurgents.
UN-backed Somali government now controls only presidential palace, airport and seaport in Mogadishu, the Somali capital.
Government offensive launched on 1 July has failed to gain ground, but has resulted in dozens of casualties.
The al-Shabab insurgent faction, linked with Al-Qaeda, and Hizbul Islam, control remainder of the city and most of southern Somalia.
African Union has agreed to send 2000 more troops, bringing total number of peacekeepers to 7000, but East African states want a UN peacekeeping operation of at least 20,000 troops; analysts say countries are unlikely to want to risk major intervention.
Analysts available for comment:
BRUNO SCHIEMSKY is former coordinator of the UN Monitoring Group on Somalia, which reported to the UN Security Council. He is currently based in Nairobi, Kenya, as a security consultant. He has had over eighteen years of progressive management experience in conflict and post-conflict countries within Africa. See full bio…
bruno.schiemsky@theglobalexperts.org
Location: Nairobi, Kenya




DAVID SHINN is former US ambassador to Ethiopia and Burkina Faso. He served for 37 years in the US Foreign Service, with assignments in Lebanon, Kenya, Tanzania, Mauritania, Cameroon and Sudan. He was State Department coordinator for Somalia during the first international intervention in the early 1990s, and director of East African affairs in the mid-1990s. See full bio…
david.shinn@theglobalexperts.org
Location: Washington, DC, USA




CATHERINE BESTEMAN is a professor of anthropology and African studies at Colby University. She focuses on the roots of violent conflict and the forces that sustain inequality and produce poverty in Africa. Her first major research project was in southern Somalia in the late 1980s, immediately prior to the civil war.
catherine.besteman@theglobalexperts.org
Location: Colby, USA




CINDY HORST is Senior Researcher at the Peace Research Institute Oslo (PRIO). She is a specialist on Somalia and refugee/forced migration situations. She has consulted for the UN High Commissioner for Refugees and the Danish Refugee Council. See full bio…
cindy.horst@theglobalexperts.org
Location: Oslo, Norway




SARJOH BAH is a Senior Fellow and Program Coordinator of African Security Institutions, at New York University's Center on International Cooperation. He is currently providing research support and policy advice to the Permanent Mission to the United Nations on Canada's Chairmanship of the Peacebuilding Commission's Country Specific Configuration on Sierra Leone, and is leading the International Development Research Center's (IDRC) exploratory work in that country. See full bio…
asarjoh.bah@theglobalexperts.org
Location: New York, USA
Latest articles from Editor