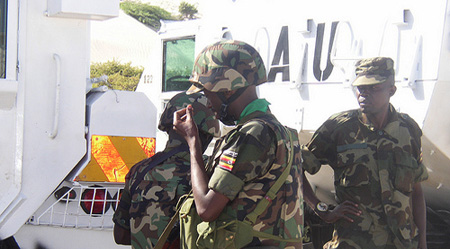 MOGADISHU: A suicide attack on a hotel in the Somali capital has killed 32 people, including six members of parliament.
Al Shabab, the Al Qaeda-linked militant group, claims responsibility.
Attackers opened fire on building with automatic weapons before suicide blast.
Hotel is close to presidential palace, one of the few remaining government-controlled sites in the city.
Attack comes on second day of major Al Shabab offensive against government; 40 dead and more than 130 others wounded since Monday.
African Union peacekeeping force holds fortified positions around presidential palace, airport and seaport.
Analysts available for comment:
BRUNO SCHIEMSKY is former coordinator of the UN Monitoring Group on Somalia, which reported to the UN Security Council. He is currently based in Nairobi, Kenya, as a security consultant. He has had over eighteen years of progressive management experience in conflict and post-conflict countries within Africa. See full bio…
bruno.schiemsky@theglobalexperts.org
Location: Nairobi, Kenya




DAVID SHINN is former US ambassador to Ethiopia and Burkina Faso. He served for 37 years in the US Foreign Service, with assignments in Lebanon, Kenya, Tanzania, Mauritania, Cameroon and Sudan. He was State Department coordinator for Somalia during the first international intervention in the early 1990s, and director of East African affairs in the mid-1990s. See full bio…
david.shinn@theglobalexperts.org
Location: Washington, DC, USA




CINDY HORST is Senior Researcher at the Peace Research Institute Oslo (PRIO). She is a specialist on Somalia and refugee/forced migration situations. She has consulted for the UN High Commissioner for Refugees and the Danish Refugee Council. See full bio…
cindy.horst@theglobalexperts.org
Location: Oslo, Norway




SABINE MACHENHEIMER is Sub-Saharan Africa Analyst for IHS Janes. She writes and edits for Janes Sentinel, Janes Intelligence Review, Janes Intelligence Weekly and Janes Country Risk Daily Report. She is available to give analysis and interviews on all dimensions of politics and conflict in Sub-Saharan Africa. See full bio…
sabine.machenheimer@theglobalexperts.org
Location: London, UK




SARJOH BAH is a Senior Fellow and Program Coordinator of African Security Institutions, at New York Universitys Center on International Cooperation. He is a leading authority on security cooperation in Africa with a particular focus on the African Union. He has commented frequently on the situation in Somalia. See full bio…
asarjoh.bah@theglobalexperts.org
Location: New York, USA
Latest articles from Editor