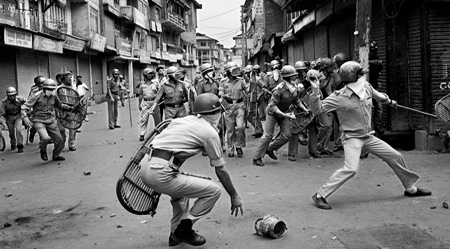 KASHMIR – Fifteen people have died after Indian police used live ammunition on a crowd of anti-American protesters in Kashmir.
Thousands of people defied a curfew on Monday to chant anti-US and anti-Indian slogans, and burn effigies of Barack Obama.
Protests were motivated by reports of Koran desecration in the United States, but also part of a broader stand-off with the Indian authorities which has gone on for three months.
Mob attacks government buildings, police facilities and a Protestant school.
Analysts available for comment:
GURMEET KANWAL is a former commander in the Indian Army. He led an infantry brigade on the Line of Control from 2001-3, and an artillery regiment in counter-insurgency operations in Kashmir Valley (1993-4). He is currently Director of the Centre for Land Warfare Studies (CLAWS) in New Delhi. He has authored several books including Nuclear Defence: Shaping the Arsenal; Indian Army: Vision 2020 and Pakistan's Proxy War.
gurmeet.kanwal@theglobalexperts.org
Location: New Delhi, India
Languages: English, Hindi, Punjabi




SAMINA AHMED is South Asia Project Director for International Crisis Group. She leads a team of analysts focusing on examination of political, security and stability issues throughout South Asia, including problems of authoritarianism; Islamic extremism, domestic and regional terrorism; educational, security sector reform; and the US and NATO interventions.
samina.ahmed@theglobalexperts.org
Location: Islamabad, Pakistan
Languages: English, Urdu




KENNETH STRINGER is director of Khyber House, a research center on Afghanistan and Pakistan for Booz Allen Hamilton. He took up this post in 2004, after 20 years service as a CIA operative. During his career with the CIA, Dr. Stringer served in a variety of analytic and managerial positions in the Directorate of Intelligence, including assignments in South Asia and Europe. In 2001, Dr. Stringer was selected to lead the South Asia Issue Group in the Office of Near Eastern and South Asian Analysis, a group of analysts providing critical analysis to the President and other senior US leaders.
kenneth.stringer@theglobalexperts.org
Location: McLean, VA, USA
Languages: English




CATHARIN DALPINO is Professor of Southeast Asian Studies at the Edmund A. Walsh School of Foreign Service and former US Deputy Assistant Secretary of State and a former Fellow at the Brookings Institution. She is an expert on Southeast Asian security, regional relations and domestic politics. See full bio…
catharin.dalpino@theglobalexperts.org
Location: Washington, DC, USA
Languages: English




JAVEED ALAM is chairman of the Indian Council of Social Science Research, as well as chairman of the Expert Group on Minorities for the government of Kerala. He is a specialist on Indian politics and society, and frequently comments on Hindu-Muslim relations. He is the author of India: Living With Modernity.
javeed.alam@theglobalexperts.org
Location: New Delhi, India
Languages: English, Urdu
Latest articles from Editor