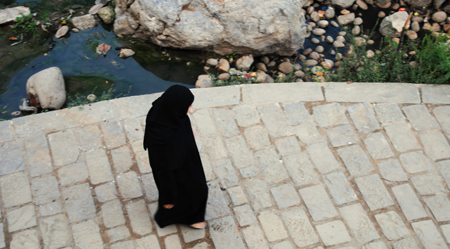 PARIS, FRANCE – A law banning the wearing of a full Islamic veil in public in France has been approved by the French Senate.
Law passed by 246 votes to 1, with 100 abstentions from mostly left-leaning politicians.
Poll finds French population backs ban by more than 4 to 1.
According to the new law, covering the face in public will be subject to a fine of $190 and/or community service. Far stricter penalties are aimed at those who force others to wear the veil: about $38,000 or a year in prison.
Law may still face challenges at the European Court of Human Rights.
About 3.5 million Muslims live in France, representing about 6% of the population.
Analysts available for comment:
SLIMANE ZEGHIDOUR is a Chief Editor at TV5, the world's leading French-speaking television network. He is the director of the TV series 'Euromed', examining the cultural links between the North and South rim countries of the Mediterranean. He was recently appointed to the Committee for Diversity by Minister Yazid Sabeg, and has also previously worked on projects relating to the Palestinian and Israeli press coverage of the war in Gaza. See full bio…
slimane.zeghidour@theglobalexperts.org
Location: Paris, France




CAROLINE FOUREST is a French writer and journalist. She has a weekly column in Le Monde, discussing French culture, and teaches about multiculturalism and universalism at Sciences Po-Paris. She is a specialist on fundamentalism in the Abrahamic religions (Judaism, Christianity, and Islam), as well as political extremism and the far-right. See full bio…
caroline.fourest@theglobalexperts.org
Location: Paris, France




AMARA BAMBA is editor in chief of SaphirNews.com, the first French web-magazine dedicated to Islamic news and information. Mr. Bamba was a leader of the French Islamic Students Association (FISA), the first French Muslim students association. See full bio…
amara.bamba@theglobalexperts.org
Location: Paris, France




SARA SILVESTRI is a specialist on the development of public policies towards Muslim communities in Europe. She is an assistant professor at City University London, where she teaches courses on political Islam and religion in global politics. She is also a research associate with the Centre for Faith in Society at Cambridge, and an advisor to the EuroMediterranean Foundation for Cultural Dialogue. See full bio…
sara.silvestri@theglobalexperts.org
Location: London, UK




MONA ELTAHAWY is an award-winning New York-based journalist and commentator, and an international lecturer. Her opinion pieces have appeared frequently in the International Herald Tribune, The Washington Post and the pan-Arab Asharq al-Awsat newspaper and she has also published opeds in The New York Times, the Christian Science Monitor, Egypt's al-Dostour and Lebanon's Daily Star. See full bio…
mona.eltahawy@theglobalexperts.org
Location: New York, USA




RENE GUITTON is an acclaimed author and scholar, writing on the subject of interfaith relations and social integration. In 2002 he was awarded the Academie Francaise – Montyon Prize for philosophy and literature. He grew up in North Africa and today lives in Paris.
rene.guitton@theglobalexperts.org
Location: Paris, France
Latest articles from Editor