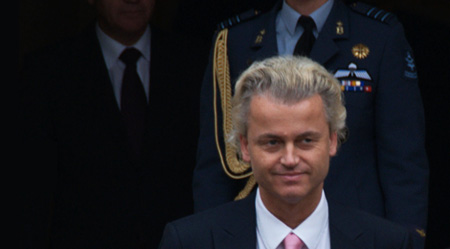 NETHERLANDS: Geert Wilders is set to become one of the most influential political figures in the Netherlands.
Wilders is leader of the Freedom Party, a right-wing party distinguished by its opposition towards Islam and 'Islamization' of Europe; Wilders has called for a tax on headscarves and a ban on the Koran, which he has compared to Mein Kampf.
The Freedom Party appears set to join a parliamentary coalition of center-right parties, the Liberal Party and the Christian Democrats.
Wilders is not expected to receive a cabinet seat, but his party will hold a veto over contentious legislation, as the goverment holds only a wafer-thin majority.
Wilders expected to call for hardline stances on immigration and crime, in addition to cut in development aid.
There are 850,000 Muslims in the Netherlands; Wilders influence could lead to rising social tensions and deterioration in Muslim community relations.
Analysts available for comment:
FAMILE ARSLAN is a Dutch lawyer and a board member of the Islam and Citizenship Foundation, which aims to stimulate debate over the concept of citizenship within the Muslim community. She previously worked for the Dutch Ministry of Justice. See full bio…
famile.arslan@theglobalexperts.org
Location: The Hague, Netherlands




ASEF BAYAT is Academic Director of the International Institute for the Study of Islam (ISIM) at Leiden University. See full bio…
asef.bayat@theglobalexperts.org
Location: Leiden, Netherlands




SARA SILVESTRI is a specialist on the development of public policies towards Muslim communities in Europe. She is an assistant professor at City University London, where she teaches courses on political Islam and religion in global politics. She is also a research associate with the Centre for Faith in Society at Cambridge, and an advisor to the EuroMediterranean Foundation for Cultural Dialogue. See full bio…
sara.silvestri@theglobalexperts.org
Location: London, UK




CAROLINE FOUREST is a French writer and journalist. She has a weekly column in Le Monde, discussing French culture, and teaches about multiculturalism and universalism at Sciences Po-Paris. She is a specialist on fundamentalism in the Abrahamic religions (Judaism, Christianity, and Islam), as well as political extremism and the far-right. See full bio…
CONTACT: caroline.fourest@theglobalexperts.org
Location: Paris, France




MONA ELTAHAWY is an award-winning New York-based journalist and commentator, and an international lecturer. Her opinion pieces have appeared frequently in the International Herald Tribune, The Washington Post, The New York Times and the pan-Arab Asharq al-Awsat newspaper. See full bio…
CONTACT: mona.eltahawy@theglobalexperts.org
Location: New York, USA
Latest articles from Editor