Research Associate of Social Anthropology, School of Oriental and African Studies, University of London
Area of Expertise: Law and Human Rights, Media, Religion, Women's Rights
Geographical Expertise - Region: Europe, North Africa and Middle East, North America
Geographical Expertise - Country: Iran
Languages: Arabic, English
Field of Work: Academia, Author/Novelist
City: London
Country: UK
Continent: Europe

Email: ziba.mir-hosseini@theglobalexperts.org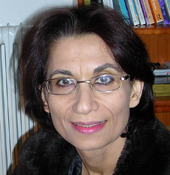 Ziba Mir-Hosseini is an independent consultant, researcher and writer on Middle Eastern issues, specialising in gender, family relations, Islam, law and development.
Dr. Mir-Hosseini is the author of Marriage on Trial: A Study of Islamic Family Law in Iran and Morocco (I. B. Tauris, 1993), Islam and Gender: The Religious Debate in Contemporary Iran (Princeton University Press, 1999; I. B. Tauris, 2000), and Feminism and the Islamic Republic: Dialogues with the Ulema (Princeton University Press, 1999). She has also produced with Kim Longinotto, two feature-length documentaries on contemporary issues in Iran: 'Divorce Iranian Style' (1998) and 'Runaway' (2001).
She obtained her PhD in Social Anthropology in 1980 at the University of Cambridge; and between 1990 and 1993 she held a Research Fellowship at Girton College, Cambridge. She is currently Research Associate at the Department of Social Anthropology, University of Cambridge and at the London Middle East Institute, School of Oriental and African Studies, University of London.