Senior Vice President, Search for Common Ground
Area of Expertise: Media, War and Conflict
Geographical Expertise - Region: North Africa and Middle East, North America, Subsaharan Africa
Language: English
Field of Work: Activist/Humanitarian, Non-Governmental
City: Washington DC
Country: USA
Continent: North America

Email: susan.collin.marks@theglobalexperts.org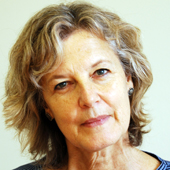 Susan Collin Marks is the Senior Vice President of Search for Common Ground, an international non-profit organization working to transform conflicts in Africa, Asia, the Middle East, Eastern Europe and the USA.
Search for Common Ground specializes in the use of the media for societal mediation and peace building through its production division, Common Ground Productions. Since joining SFCG in 1994, she has worked to develop Common Ground's global media expertise in print, radio and television.
For the last twenty years, Ms. Collin Marks has focused on conflict transformation, peacebuilding, reconciliation and forgiveness. She is internationally recognized for her work in the Middle East and Africa in particular. She serves on numerous boards, including the Executive Committee of the World Economic Forum's Council of 100 Leaders on Western-Islamic World Dialogue, and the Abraham Path Initiative of the Global Negotiation Project at Harvard Law School. She is a Senior Associate of the International Conflict Resolution Program at Columbia University and was a 1994/5 Jennings Randolph Peace Fellow at the United States Institute for Peace. She is the founding editor of Track Two, a quarterly publication of the Center for Conflict Resolution, Cape Town promoting constructive approaches to community and political conflict. She received the Institute of Noetic Sciences Creative Altruism award in 2005 and a Skoll Fellowship for Social Entrepreneurship in 2006.
Ms. Collin Marks is a South African who served as a peacemaker and peace builder during South Africa's transition from apartheid to democracy. Her book Watching the Wind: Conflict Resolution during South Africa's Transition to Democracy (USIP 2000) was also published in Arabic in 2004 (Dar Al Ahliah, Amman, Jordan.). From 1973 – 1985, she was a journalist and award-winning documentary film-maker for Team Two Productions, based in the UK. She holds a BA in Anthropology from the University of Cape Town and an MA in International relations from the University of Kent at Canterbury.