Founder and President, the SANO Group consultancy
Area of Expertise: Media, Religion, Women's Rights
Geographical Expertise - Region: North Africa and Middle East, North America
Language: English
Field of Work: Journalist/Commentator, Non-Governmental
City: San Jose
Country: USA
Continent: North America

Email: souheila.al-jadda@theglobalexperts.org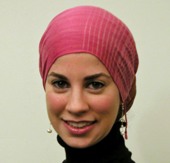 Souheila Al-Jadda is a Peabody award-winning producer and journalist, and the founder and president of the SANO Group consultancy.
Her opinion pieces have been published in newspapers in the United States and abroad, including USA Today, The Christian Science Monitor, The Dallas Morning News and The Daily Star in Lebanon among others. Ms. Al-Jadda is also a member of the Board of Contributors for USA Today, and has appeared as a guest analyst on CNN, MSNBC, CBS News and Link TV to discuss Islam, American Muslims, women and issues affecting the Middle East.
Ms. Al-Jadda is an associate producer of the Peabody award-winning daily news program, Mosaic: World News from the Middle East, on Link TV. In her capacity at Link TV, she also produces one-hour Mosaic Specials and the Who Speaks for Islam? series. She is also the president and founding partner of SANO Group, a consulting firm that specializes in providing policy analysis and expertise in international relations, philanthropic giving, communications and media production.
Prior to producing at Link TV, Ms. Al-Jadda worked for four years on Capitol Hill as a legislative aide for United States Representative Dennis Kucinich. She worked on issues dealing with foreign policy, human and civil rights, veterans affairs, health care and other issues.
Ms. Al-Jadda attended the George Washington University in Washington, DC, where she obtained her B.A. in political science and journalism. She received a master's degree in Middle East Studies and Economics from the Johns Hopkins University School of Advanced International Studies.