Founder and Executive Director, Just Vision
Area of Expertise: Law and Human Rights
Geographical Expertise - Region: North Africa and Middle East, North America
Geographical Expertise - Country: Israel, Palestine
Languages: English, French, Hebrew
Field of Work: Activist/Humanitarian, Non-Governmental
City: Washington DC
Country: USA
Continent: North America

Email: ronit.avni@theglobalexperts.org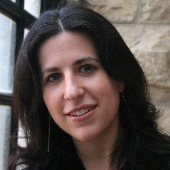 Ronit Avni is the Founder and Executive Director of Just Vision, a non-profit organization that informs local and international audiences about under-documented Palestinian and Israeli joint civilian efforts to resolve the conflict through non-violent means.
Ms. Avni directed and produced the documentary film, Encounter Point, which received the Audience Award for Best Documentary from the San Francisco International Film Festival and the Rencontres Film Festival, as well as the Docupolis award for Best First Documentary. Encounter Point was screened at the Tribeca Film Festival, Hot Docs, the Dubai and Jerusalem International Film Festivals as well as the Al Jazeera International Film Festival, and has been shown at the World Bank, the United Nations, and in 150 cities worldwide. It was broadcast on Al Arabiya and on CBC in Canada. On account of her work, Ms. Avni received the 2005 Auburn Seminary's Lives of Commitment Award and appeared on the Oprah Winfrey Show in 2005 with her colleague, Joline Makhlouf.
From 2000-2003, Ms. Avni co-produced short videos and online video advocacy features in collaboration with filmmakers in Senegal, Afghanistan, the United States and Brazil while working for Peter Gabriel's human rights organization, WITNESS. Ms. Avni has trained non-governmental organizations from Honduras to Gambia to produce videos as a tool for public education and grassroots mobilizing, as a deterrent to further abuse and as evidence before courts and tribunals. She has also previously worked with B'Tselem, the Israeli Information Center for Human Rights in the Occupied Territories, and the Public Committee Against Torture in Israel (PCATI).
Ms Avni co-edited the book, Video for Change: A Guide for Advocacy and Activism (Pluto Press, UK), with staff from WITNESS. Her essay, 'Inverting the Shame-Based Human Rights Documentation Model in the Context of the Palestinian-Israeli Conflict', was published in the spring 2006 edition of American Anthropologist. Ms. Ronit graduated with honors with a BA in political science from Vassar College, and holds a DEC in Professional Theatre Studies from Dawson College.