News Anchor, Al Jazeera English
Area of Expertise: Media
Geographical Expertise - Region: Europe, North Africa and Middle East, North America
Languages: English, Hindi, Urdu
Field of Work: Journalist/Commentator
City: Washington DC
Country: USA
Continent: North America

Email: riz.khan@theglobalexperts.org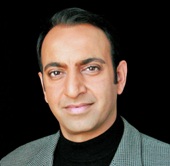 Riz Khan is an international journalist based in Washington, D.C. in the United States, and Dubai in the United Arab Emirates. He is currently a news anchor for Al Jazeera English, and previously served as a senior anchor at CNN International.
In February 2005, he joined the world-renowned Al Jazeera network to set up its English-language channel and to host its flagship programme, "Riz Khan" – a daily, live, interactive global show featuring the world's top newsmakers. He also hosts and produces a weekly profile show – "Riz Khan's One on One".
Mr. Khan's departure from CNN International in May 2001, after eight years as one of the network's highest profile personalities, led him to found and run an independent production company, and work as an author, media consultant, and moderator of high-profile international conferences and conventions. He is also a founding director and creative force for a company producing high-end 3D video games for niche markets such as the Middle East.
Before joining CNN in May 1993, Mr. Khan was a presenter and reporter with the BBC over a period of eight years. He was the network's first South Asian news presenter, and launched the start of BBC World Service Television News in October 1991.
Mr. Khan was educated in Britain, initially studying to become a doctor and graduating with a degree in medical physiology. He switched to journalism for his postgraduate studies. Born a UK citizen in the British colony of Aden in the former South Yemen, Mr. Khan's family moved to Britain in 1967.  English is his native tongue, but he speaks Urdu and Hindi.
Latest articles from Riz Khan