Coordinator, United Nations Analytical Support and Sanctions Implementation Monitoring Team
Area of Expertise: Defense and Security, Terrorism
Geographical Expertise - Region: Europe, North Africa and Middle East, North America
Language: English
Field of Work: United Nations
City: New York
Country: USA
Continent: North America

Email: richard.barrett@theglobalexperts.org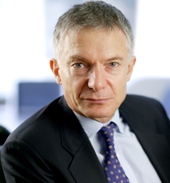 Richard Barrett is an expert on Al Qaeda-related terrorism. He is based in New York. Since March 2004 he has been the United Nations Coordinator of the Analytical Support and Sanctions Implementation Monitoring Team, also known as the Al-Qaeda and Taliban Monitoring Team, appointed by the United Nations Secretary-General at the request of the Security Council.
The role of the Team is to advise the Security Council on the threat from Al-Qaeda, the Taliban, their affiliates and associates, and to monitor the implementation and effectiveness of the sanctions regime imposed by the Council against them. His current job takes him to all parts of the world and has put him in touch with a wide variety of officials and others active in the field of counter-terrorism. He has been particularly interested in working with national governments to examine the precise factors which lead individuals to join terrorist groups and how to counter them.
Mr. Barrett is also a member of the Task Force established by the Secretary-General of the United Nations to promote implementation of the Global Strategy to Counter Terrorism adopted by the General Assembly in September 2006. He is co-chair of two working groups, one that looks at what leads people to terrorism and one that examines the use of the Internet for terrorist purposes.
Before taking up his present position he worked with the British government both in London and abroad, serving with the Security Service, the Foreign Office and the Secret Intelligence Service (SIS). He has had postings to Canada, Jordan, Turkey and to the United Kingdom Mission to the United Nations in New York.
He has conducted live and recorded interviews on television and radio, including with Al Arabiya, BBC, CBC, CNN, NBC and many local stations.
He has a master's degree from Oxford University in history and Italian literature.