Middle East Analyst, CBS News
Area of Expertise: Civil Society, Law and Human Rights, Religion, Terrorism, War and Conflict
Geographical Expertise - Region: North Africa and Middle East, North America
Geographical Expertise - Country: Iran
Languages: Arabic, English
Field of Work: Academia, Author/Novelist, Journalist/Commentator
City: Los Angeles
Country: USA
Continent: North America

Email: reza.aslan@theglobalexperts.org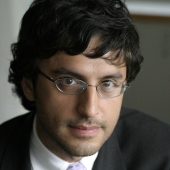 Reza Aslan is a Middle East analyst for CBS News, and a fellow at the University of Southern California's Center on Public Diplomacy.
He is an internationally acclaimed writer and scholar of religions, and holds degrees in religion from Santa Clara University, Harvard University, and the University of California, Santa Barbara, as well as a Master of Fine Arts from the University of Iowa, where he was named the Truman Capote Fellow in Fiction.
He is a member of the Council on Foreign Relations, the Los Angeles Institute for the Humanities, and the Pacific Council on International Policy. He serves on the board of directors for both the Ploughshares Fund and PEN USA. Mr. Aslan's first book is the New York Times bestselling, No god but God: The Origins, Evolution, and Future of Islam, which has been translated into half a dozen languages, short-listed for the Guardian (UK) First Book Award, and nominated for a PEN USA award for research Non-Fiction. His next book, How to Win a Cosmic War was published by Random House in late 2008, followed by an edited anthology, Words Without Borders: Contemporary Literature from the Muslim World, published by Norton in the Spring of 2009.
Mr. Aslan is co-founder and creative director of BoomGen Studios and the Editorial Executive of Mecca.com, an on-line community for Muslim youth. Born in Iran, he now lives in Santa Monica, California, where he is Assistant Professor of Creative Writing at University of California, Riverside.
Latest articles from Reza Aslan