Senior Partnership Advisor, UNAIDS
Area of Expertise: Civil Society, Development, Religion, Women's Rights, Youth Issues
Geographical Expertise - Region: North Africa and Middle East, North America, Subsaharan Africa
Language: English
Field of Work: Activist/Humanitarian, United Nations
City: Washington DC
Country: USA
Continent: North America

Email: pauline.muchina@theglobalexperts.org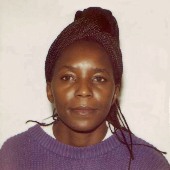 Dr. Pauline Muchina is the Senior Partnerships Advisor for UNAIDS in Washington, DC.
At UNAIDS Dr. Muchina works to advocate effective and comprehensive global AIDS responses that empower women and girls to protect themselves and their families, and promote an end to gender-based violence and discrimination against women as a prerequisite for building sustainable communities and stopping the spread of HIV.
Previously, Dr. Muchina worked as the Global Health Council's Community and Faith-based Organization Outreach Coordinator and with the AIDSMARK team at Population Services International. Prior to moving to Washington, DC, she worked for the AIDS Resource Center and World Council of Churches in New York. Dr. Muchina is a member of the Circle of Concerned African Women Theologians, and has served on several boards, including the Global AIDS Alliance, Star School, South Africa and Fighting AIDS through Entertainment, Kenya.
Dr. Muchina is an AIDS and gender equality activist and an inspiring public speaker. She  has spoken in various international forums, including the UN Beijing International Conference on Women, International AIDS Conference in Bangkok and Toronto, the UN International Conference on Racism and Xenophobia and the UN Commission on the Status of Women. She has been interviewed by various media outlets including Voice of America, NTV Kenya, Citizen Radio, South African TV and the Norwegian newspaper Klassekampen.
She holds a master's degree in divinity from Yale University Divinity School and a PhD from the Union Theological Seminary, New York.