Chair for the Study of Islam, American Academy of Religion
Area of Expertise: Civil Society, Law and Human Rights, Media, Religion, War and Conflict
Geographical Expertise - Region: Asia, Europe, North Africa and Middle East, North America
Geographical Expertise - Country: Iran
Languages: Arabic, English
Field of Work: Academia, Activist/Humanitarian, Author/Novelist
City: Chapel Hill
Country: USA
Continent: North America

Email: omid.safi@theglobalexperts.org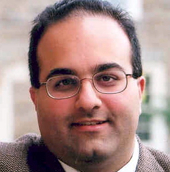 Professor Omid Safi is one of the leading intellectuals in contemporary Islam. Having witnessed the Iranian revolution and the horrors of the Iran-Iraq war personally, he is deeply committed to exploring the possibilities of justice and nonviolent struggle within the Islamic tradition.
An American with Iranian heritage, Professor Safi has traveled widely throughout the Muslim world and has spent half his life in countries such as Iran, Turkey, Egypt, Morocco, and India. His understanding of religion is shaped both by the pluralistic Sufi dimension of Islam as well as the teachings of Martin Luther King, Jr., Gandhi, and His Holiness the Dalai Lama.
As the current Chair for the Study of Islam at the American Academy of Religion, the largest international organization devoted to the academic study of religion, Dr. Safi disseminates his knowledge of the study of Islam with a vast number of pupils. In addition to his role as Chairman, he is also an Associate Professor of Islamic Studies at the University of North Carolina at Chapel Hill. His devotion to his studies and teaching led Dr. Safi to be nominated six times for the Professor of the Year Award at Colgate University. He was also nominated twice at Duke University for the Distinguished Lecturer Award.
In addition to his teaching credentials, Dr. Safi is a published author with three books and has been featured in a number of media outlets, including NPR, Associated Press, CNN, and NBC. His work Islam and the Politics of Knowledge, which deals with medieval Islamic history and politics, was published by the University of North Carolina Press in 2006 along with his edited collection titled Voices of Islam: Voices of Change. His book Memories of Muhammad: Why the Prophet Matters (HarperCollins) was released in 2009 and discusses Islamic reform movements in Iran. As the editor of the volume Progressive Muslims: On Justice, Gender, and Pluralism (Oxford: Oneworld Publications, 2003), he brought together fifteen Muslim scholars and activists to imagine a new understanding of Islam that is rooted in social justice, gender equality, and religious/ethnic pluralism.
Latest articles from Omid Safi