CEO and Founder, Teshkeel Media Group
Area of Expertise: Business and Globalization, Media, Religion, Youth Issues
Geographical Expertise - Region: North Africa and Middle East, North America
Languages: Arabic, English
Field of Work: Activist/Humanitarian, Author/Novelist
City: Kuwait City, New York
Country: USA
Continent: Asia, North America

Email: naif.al.mutawa@theglobalexperts.org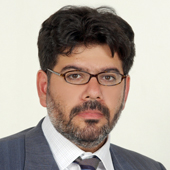 Dr. Naif Al-Mutawa is the founder and CEO of Teshkeel Media Group, a company based in Kuwait that has a primary focus on creating cartoon and comic superhero characters for Islamic children and young adults.
His creation, The 99, has received praise from the international media including The New York Times, The Wall Street Journal, Time Magazine, The Washington Post and The Guardian.
Dr. Al-Mutawa's involvement in the field of human rights and tolerance dates back to his college years where he interned at the United Nations Convention of Human Rights in Geneva, Switzerland. While at college in the United States, Al-Mutawa wrote widely read columns for both the Arab and American press that focused on social and political commentary. His writing began with a series of children's books designed to introduce children and adults to concepts of tolerance. A PhD in clinical psychology from Long Island University, Al-Mutawa completed his Masters in Business Administration and his Masters in Organizational Psychology from Columbia University. He earned his undergraduate degree from Tufts University, where he triple majored in clinical psychology, English literature and history.
Dr. Al-Mutawa has had extensive clinical experience working with former prisoners of war in Kuwait as well as at the Survivors of Political Torture unit of Bellevue Hospital in New York. His exposure to the horrors of prisons in the third world and with people tortured because of their religious and political beliefs led to his authoring of a children's tale that won a UNESCO prize for literature in the service of tolerance. His children's series is now used in schools throughout the Arab World and as a resource in master's level education classes by a handful of universities including the American University of Beirut, where it has been part of the curriculum for the last eight years.