Professor, Brandeis University
Area of Expertise: Civil Society, Law and Human Rights, War and Conflict
Geographical Expertise - Region: Asia, Europe, North Africa and Middle East, North America
Geographical Expertise - Country: Indonesia, Northern Ireland
Language: English
Field of Work: Activist/Humanitarian
City: Waltham
Country: USA
Continent: North America

Email: mari.fitzduff@theglobalexperts.org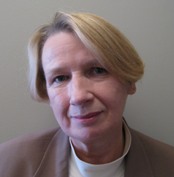 Professor Mari Christine Fitzduff is an Irish-born activist, educator, writer and academic. She is currently Director of the MA Conflict and Coexistence Program at Brandeis University, Massachusetts, USA, which began in 2004.
Professor Fitzduff has worked on programs addressing conflict and diversity issues in the Basque Country, Sri Lanka, Middle East, and Indonesia. Her particular areas of interest include the management of diversity, peace processes, conflict prevention, and education and training of people working in conflict zones around the world.
She helped to set up the first courses in conflict resolution in both universities in Northern Ireland. The field was so new that people "turning up for mediation thought they were turning up for meditation."
From 1990 to 1997, Professor Fitzduff was Chief Executive of the Northern Ireland Community Relations Council. This body worked to address the conflict in Northern Ireland by working with government authorities, statutory bodies, trade unions, businesses, churches, community groups, security forces, and former prisoners to develop conflict resolution projects and training. From 1997-2003, she held a Chair of Conflict Studies at the University of Ulster where she was Director of UNU/INCORE, which addresses the management of ethnic, political, and religious conflict through an integrated approach using research, training, policy, program, and practice development.
Because of her knowledge in this field and her experiences educating others about this area of study, Professor Fitzduff's expertise is often called upon by governments and international organizations.  The United Nations, World Bank, Commonwealth, European Union, British Council, and the Club of Madrid are just some of the organizations which she has worked with in recent years. Professor Fitzduff also has extensive television and radio experience and has regularly presented programs on politics and religion for RTE, the Irish television station, and the BBC.
Professor Fitzduff is the author of Beyond Violence – Conflict Resolution Processes in Northern Ireland (Brookings-UN, 2002), the winner of an American Library Notable Publications Award. She also published Community Conflict Skills, first published in 1988 and now in its fourth edition. Her seminal text, it provides over fifty ways of looking at issues of justice, political choices, and bridge building in divided societies. She co-edited NGO's at the Table (Rowan and Littlefield, 2004). Her most recent publication is The Psychology of War, Conflict Resolution and Peace, a three-volume series co-edited with Chris Stout (Praegar Press, 2006).