Executive Director, Human Rights Watch
Area of Expertise: Civil Society, Law and Human Rights, Minority Rights
Geographical Expertise - Region: Asia, Balkans, Europe, North Africa and Middle East, North America
Languages: English, French
Field of Work: Non-Governmental
City: New York
Country: USA
Continent: North America

Email: kenneth.roth@theglobalexperts.org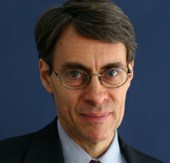 Kenneth Roth is the executive director of Human Rights Watch, an organization which investigates, reports on, and seeks to curb human rights abuses in some 70 countries.
He previously served as a federal prosecutor for the U.S. Attorney's Office for the Southern District of New York and the Iran-Contra investigation in Washington.
Mr. Roth is a specialist in the field of human rights with a history of experience conducting human rights investigations worldwide. He devotes particular attention to the consequences for perpetrators of human rights abuses. Such issues include justice and accountability for gross abuses of human rights, standards governing military conduct in time of war, the human rights policies of the United States and the United Nations, and the human rights responsibilities of multinational businesses.
Mr. Roth was in part drawn to the field of human rights because of his father's experiences in Europe when he fled Nazi Germany in 1938. After this passion for the field grew, Mr. Roth began his work in human rights after the declaration of martial law in Poland in 1981. He was also deeply engaged in the fight again military repression in Haiti.
A graduate of Yale Law School and Brown University, Mr. Roth has been actively involved in the field of human rights through the world-renowned human rights organization Human Rights Watch. Mr. Roth has been HRW's executive director since 1993 and served as deputy director from 1987 to 1993. In his thirteen years with the organization, it has quadrupled in size and developed enormously in scope, expanded its geographic reach and adding special programs including ones devoted to refugees, children's rights, international justice, AIDS, gay and lesbian rights, human rights emergencies, terrorism and counterterrorism, and the human rights responsibilities of multinational corporations.
Before his time at Human Rights Watch, Mr. Roth was active in the field of law. He worked as a litigator in private practice.
With his experiences in human rights law and his role with Human Rights Watch, Mr. Roth has written more than eighty articles and chapters on a range of human rights topics. His works appear in such publications as The New York Times, The Washington Post, Foreign Affairs, The International Herald Tribune, and The New York Review of Books. He also regularly speaks to audiences around the world.