Professor, Georgetown University
Area of Expertise: International Relations, Minority Rights, Religion, Terrorism
Geographical Expertise - Region: North Africa and Middle East, North America
Language: English
Field of Work: Academia, Author/Novelist, Think tank/Research center, United Nations
City: Washington DC
Country: USA
Continent: North America

Email: john.esposito@theglobalexperts.org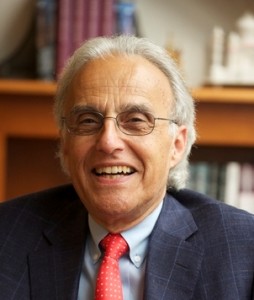 Professor John L. Esposito is an expert in religion and international affairs, particularly within the context of the Middle East.
A consultant to the Department of State as well as corporations, universities, and the media worldwide, Professor Esposito specializes in Islam, political Islam, and the impact of Islamic movements from North Africa to Southeast Asia.
Currently, Professor Esposito is University Professor as well as Professor of Religion and International Affairs and of Islamic Studies at Georgetown University. Before teaching at Georgetown, Professor Esposito was Loyola Professor of Middle East Studies, Chair of the Department of Religious Studies, and Director of the Center for International Studies at the College of the Holy Cross. He is also the founding director of the Prince Alwaleed bin Talal Center for Muslim-Christian Understanding in the Walsh School of Foreign Service.
In addition to his teaching positions at universities, Professor Esposito has also been involved with important organizations related to Islamic studies. He has served as President of the Middle East Studies Association of North America and the American Council for the Study of Islamic Societies.  Dr. Esposito is currently Vice-President and President-Elect of the American Academy of Religion.
Because of his areas of expertise, Professor Esposito has been appointed to the World Economic Forum's Council of 100 Leaders and to the High Level Group of the UN Alliance of Civilizations.
Professor Esposito's professional accomplishments have led him to receive various honors and awards. He is a recipient of the American Academy of Religion's 2005 Martin E. Marty Award for the Public Understanding of Religion and of Pakistan's Quaid-i-Azzam Award for Outstanding Contributions in Islamic Studies. In 2003, he received the Georgetown University School of Foreign Service Award for Outstanding Teaching. He received an honorary doctorate from the University of Florida in 2011 in recognition of his contributions to greater Muslim-Christian understanding around the world.
Professor Esposito has authored or contributed to a wide range of publications. He is the editor-in-chief of The Oxford Encyclopedia of the Modern Islamic World (4 volumes), The Oxford History of Islam, a Book-of-the-Month Club and History Book Club selection, The Oxford Dictionary of Islam, and The Islamic World: Past and Present (3 volumes) His more than thirty books include Unholy War: Terror in the Name of Islam, What Everyone Needs to Know About Islam, World Religions Today (with D. Fasching & T. Lewis), Geography of Religion: Where God Lives, Where Pilgrims Walk (with S. Hitchcock), and The Islamic Threat: Myth or Reality?; Islam: The Straight Path. His books and articles have been translated into Arabic, Persian, Urdu, Bahasa Indonesia, Turkish, Japanese, Chinese, and European languages.
Latest articles from John Esposito