Chairman, Cordoba Initiative
Area of Expertise: Law and Human Rights, Migration and Integration, Minority Rights, Religion, Youth Issues
Geographical Expertise - Region: Asia, North Africa and Middle East, North America
Languages: Arabic, English, Malay
Field of Work: Activist/Humanitarian, Non-Governmental, Religious Leader
City: New York
Country: USA
Continent: North America

Email: feisal.abdul.rauf@theglobalexperts.org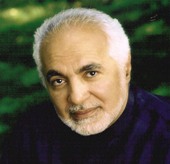 Imam Feisal is chairman of the Cordoba Initiative, an independent, non-partisan, multi-national project that works with state and non-state actors to improve Muslim-West relations.
In this capacity, he directs projects that aim to heal conflict between Islamic and Western communities by developing youth leadership, empowering women, and engaging Islamic legal scholars in addressing the implications of contemporary Islamic governance.
In 1997, Imam Feisal founded the American Society for Muslim Advancement (ASMA), the first Muslim organization committed to bringing American Muslims and non-Muslims together through programs in academia, policy, current affairs, and culture. As Imam of Masjid al-Farah, a mosque located twelve blocks from Ground Zero in New York City, he preaches a message of understanding between people of all creeds. Additionally, Imam Feisal sits on the Board of Trustees of the Islamic Center of New York and serves as an advisor to the Interfaith Center of New York.
Due to his long record of leadership in interfaith dialogue efforts, Imam Feisal has been frequently sought for comment by international media outlets including the BBC, CNN, The New York Times, The Washington Post, Frontline, and Foreign Policy. His publications include Islam: A Search for Meaning, Islam: A Sacred Law (What every Muslim Should Know About the Shariah) and What's Right With Islam: A New Vision for Muslims and the West, which Christian Science Monitor rated among its five best books of 2004.
Born in Kuwait and educated in England, Egypt, and Malaysia, Imam Feisal holds a Bachelor of Science in Physics from Columbia University in New York and a Master of Science in Plasma Physics from Stevens Institute of Technology in New Jersey. He speaks English, Arabic, and Malay.
Latest articles from Feisal Abdul Rauf