President, American Iranian Council
Area of Expertise: Business and Globalization, Civil Society, Development, International Relations, Religion, War and Conflict
Geographical Expertise - Region: North Africa and Middle East, North America
Geographical Expertise - Country: Iran
Language: English
Field of Work: Academia, Activist/Humanitarian, Non-Governmental
City: New Jersey
Country: USA
Continent: North America

Email: hooshang.amirahmadi@theglobalexperts.org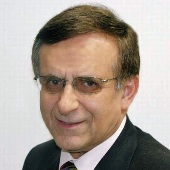 Dr. Hooshang Amirahmadi is an Iranian academic and political analyst, and professor of the Edward J. Bloustein School of Planning and Public Policy at Rutgers University, New Jersey. He is also president of the American Iranian Council.
Dr. Amirahmadi is a leading authority on the Iranian reform movement, and has conducted detailed tracking of reform forces inside Iran since before the administration of President Mohammad Khatami. He is also a specialist on Iranian-US relations, and has been a passionate advocate of US engagement with Iran through his work at the American Iranian Council, an organization dedicated to advancing dialogue between the peoples of the two countries.
Dr. Amirahmadi was a candidate for President in Iran's ninth presidential election in June 2005, but the conservative and religious Guardian Council disqualified him for his dual Iranian-American citizenship and democratic platform. Dr. Amirahmadi is the author of the Revolution and Economic Transition: The Iranian Experience, a major analysis of post-revolutionary Iran, and three other books in Persian on civil society, industrial policy, and geopolitics of energy. He also edited The Caspian Region at a Crossroad: A New Frontier of Energy and Development, The United States and the Middle East: A Search for New Perspectives, Post-Revolutionary Iran, Iran and the Arab World and Reconstruction and Regional Diplomacy in the Persian Gulf. He is a frequent contributor to national and international media outlets including CNN, FOX, BBC, ABC, PBS, VOA, radio, and newspapers. He has also served as consultant for the UNDP, the Aga Khan Foundation, the World Bank, and several governments, law firms, and private companies throughout the world.
Dr. Amirahmadi's graduate teaching at Rutgers includes courses on global restructuring and public policy, international economic development, and national and regional development planning and policy.