Representative, Soka Gakkai International
Area of Expertise: Civil Society, Law and Human Rights, Religion, Terrorism, War and Conflict, Women's Rights, Youth Issues
Geographical Expertise - Region: North Africa and Middle East, North America
Language: English
Field of Work: Non-Governmental, United Nations
City: New York
Country: USA
Continent: North America

Email: hiroyuki.sakurai@theglobalexperts.org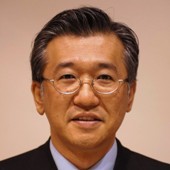 Hiro Sakurai is the representative of Soka Gakkai International (SGI) to the United Nations in New York, and has managed SGI's United Nations Liaison Office since 1997.
Soka Gakkai International is the global support organization for practitioners of Soka Gakkai, a Japanese new religious movement descended from Nichiren Buddhism, and has had consultative status with the UN Economic and Social Council (ECOSOC) since 1983.
Since 1997, Mr. Sakurai has participated in various activities and taken on a wide range of responsibilities, including: President, Committee of Religious NGOs at the United Nations (2004-2007); Member, Civil Society Task Force, General Assembly High-level Dialogue on Interreligious and Intercultural Cooperation and Understanding for Peace (2007); Troika member, Tripartite Forum on Interfaith Cooperation for Peace (2006-2007); Member, Council of Trustees, Temple of Understanding (TOU), a global interfaith organization in consultative status with ECOSOC (2004-present); Member, Board of Directors, NGO Committee on Disarmament, Peace and Security, a substantive committee of the Conference of NGOs in Consultative Relationship with the UN (CONGO)(2002-present); Member, International Steering Committee, Global Action to Prevent War (2006-present); Advisor, Toda Institute for Peace and Policy Research, a research NGO associated with the Department of Public Information (DPI).
Mr. Sakurai has been actively involved in the work of religious NGOs, their relations to the UN and Member States since 1999. Since 2005, he has worked closely with representatives of the UN and Member States to co-organize conferences with religious NGOs at the UN. These experiences have given him unique perspectives on issues related to interfaith cooperation at the UN and UN-civil society relations. He has also worked on developing interfaith cooperation in such critical fields as nuclear disarmament, education for sustainable development, and building a culture of peace and nonviolence.
Mr. Sakurai holds a master's degree in Teaching English to the Speakers of Other Languages (TESOL) from Soka University of America (1997).