President and Founder, Tanenbaum Center for Interreligious Understanding
Area of Expertise: Media, Religion
Geographical Expertise - Region: North America
Languages: English, French
Field of Work: Journalist/Commentator, Non-Governmental
City: New York
Country: USA
Continent: North America

Email: georgette.bennett@theglobalexperts.org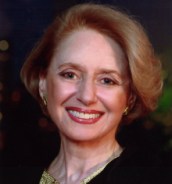 Dr. Georgette Bennett has had a distinguished career as an academic sociologist, author, organizational development consultant, broadcast journalist, and marketing specialist.
President of the Tanenbaum Center for Interreligious Understanding since she founded it in 1992, Dr. Bennett has been the driving force behind Tanenbaum's programs.
A widely published author, organizational development consultant, popular lecturer, broadcast journalist, and public affairs/marketing specialist, she is an innovative and entrepreneurial leader. Always at the cutting edge, the hallmark of her vision is an institutionally-based approach to creating change. As such, she has guided Tanenbaum in creating usable knowledge that moves beyond dialogue to action.
Tanenbaum is a secular non-profit that promotes mutual respect with practical programs that bridge religious difference and combat prejudice in areas of armed conflict, schools, workplaces, and health care settings. In each area in which the organization operates – all pioneered by Dr. Bennett – Tanenbaum is a recognized thought leader and the go-to organization for innovative resources that transform religious conflicts and tensions.
*Â  Â  Â  Â  Â  Â  Â CONFLICT RESOLUTION: Dr. Bennett created the Peacemakers in Action program to analyze approaches to religious peacemaking and their applicability to other conflicts, earning the recognition of the United Nations, United States Institute of Peace and a host of other international peacebuilding and diplomatic organizations.
*             WORKPLACE: Under her leadership, Tanenbaum became the leading resource for religious diversity in the workplace, and has given numerous briefings to leadership at  Fortune 500 companies worldwide including at IBM, PriceWaterhouseCooper and Merck.
She is a frequent speaker at professional meetings such as The Conference Board and the Society for Human Resource Management (SHRM).  From 2008-2011, she served on SHRM's Workplace Special Expertise Panel on Diversity. The 50+ companies with which she has worked are diversity leaders, implementing solutions like holiday swapping and creating quiet spaces for daily prayer or reflection and becoming global employers of choice.
Dr. Bennett also led Tanenbaum's development of the first comprehensive manager's manual for addressing religion in the workplace.
*Â  Â  Â  Â  Â  Â  Â HEALTH CARE: In the course of that work she realized the need for sector-specific initiatives, giving rise to Tanenbaum's health care programming – today the organization's fastest-growing area. From a single eight-hour pilot initiative has come a program that's reached more than 2500 physicians, nurses and other health care providers and has produced the first comprehensive textbook on religious issues in patient care, The Medical Manual for Religio-Cultural Competence.
*Â  Â  Â  Â  Â  Â  Â EDUCATION: Dr. Bennett also spearheaded Tanenbaum's education program, creating academic curricula embedded with lessons of inclusivity and respect that have reached over 100,000 students through the hundreds of educators we've trained across the U.S.
Dr. Bennett holds her doctorate in sociology from New York University and is a former faculty member of the City University of New York and adjunct at NYU's School of Education. She has authored four books and over 50 articles in scholarly, professional and popular publications. Her last book, Crimewarps: The Future of Crime in America, was proposed for a Pulitzer Prize.
In addition, she received the 1997 Interfaith Gold Medallion from the International Council of Christians and Jews, the title of distinguished Advisor from the Search Institute, the Nostra Aetate award from the Center for Christian-Jewish Understanding, the Distinguished Service Award from the New York City Comptroller's office and two national awards from the American Society for Public Administration. She has also been nominated for the Templeton Prize, and in 2011 was named one of Women of Wealth magazine's top 80 mentoring leaders.
Dr. Bennett is available to speak on a variety of religion-related topics, including:
*Â  Â  Â  Â  Â  Â  Â Interfaith relations, especially Jewish/Christian and Jewish/Christian/Muslim relations
*Â  Â  Â  Â  Â  Â  Â The demographics of and trends influencing the U.S. religious landscape
*Â  Â  Â  Â  Â  Â  Â Employment discrimination based on religion
*Â  Â  Â  Â  Â  Â  Â Accommodating religious needs in the workplace
*Â  Â  Â  Â  Â  Â  Â Middle East coexistence, especially Israeli/Palestinian
*Â  Â  Â  Â  Â  Â  Â The role of religious peacebuilders in the diplomatic process
*Â  Â  Â  Â  Â  Â  Â Multicultural and multi-religious education