Director, Columbia University Center for the Study of Ethnicity and Race
Area of Expertise: Media, Migration and Integration, Women's Rights
Geographical Expertise - Region: Latin America and the Caribbean, North America
Languages: English, Spanish
Field of Work: Think tank/Research center
City: New York
Country: USA
Continent: North America

Email: frances.negronmuntaner@theglobalexperts.org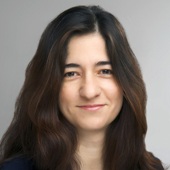 Dr. Frances Negrón-Muntaner is an award-winning filmmaker, writer, and scholar. She is the director of Columbia University's Center for the Study of Ethnicity and Race.

Born in Puerto Rico, Dr. Negrón-Muntaner's work spans several fields, including mass media, literature, cultural criticism, migration, and politics. She holds a bachelor's degree in sociology from the University of Puerto Rico (1986), a master's degree in film and anthropology at Temple University, Philadelphia (1991, 1994), and a PhD in Comparative Literature from Rutgers University, New Brunswick (2000).
For her work as a scholar and filmmaker, Dr. Negrón-Muntaner has received Ford, Truman, Scripps Howard, Rockefeller, and Pew fellowships. Major foundations and public television funding sources have also supported her work.Since the late 1980s, Dr. Negrón-Muntaner's work has been considered an important resource in addressing sexuality, colonialism, nationalism, and migration in Caribbean and Latino diasporic contexts. Among her works is the 1994 award-winning film Brincando el charco: Portrait of a Puerto Rican, the groundbreaking edited collection Puerto Rican Jam: Rethinking Colonialism and Nationalism (1997), and Boricua Pop (CHOICE Award 2004), a collection of essays on contemporary U.S. popular culture.
Dr. Negrón-Muntaner has also contributed to the founding of programs and institutions to disseminate the work of filmmakers and intellectuals. She is the founder of Miami Light Project's Filmmakers Workshop, the organizer/fundraiser of several conferences on Puerto Rican/Latino affairs, and a founding board member and former chair of NALIP, the National Association of Latino Independent Producers. For her work as a filmmaker, advocate, and scholar, she was named as one of the nation's "100 Most influential Latinos" by Hispanic Business in 2005.
Dr. Negrón-Muntaner has also served as a columnist for El Diario/La Prensa (New York), The San Juan Star, and El Mundo. She has been widely interviewed in print, radio, and on television in such venues as NPR, CNN, Univisión, Variety, and The Miami Herald.