Visiting Fellow at Johns Hopkins University
Area of Expertise: Defense and Security, International Relations, Politics and Governance, Terrorism, War and Conflict
Geographical Expertise - Region: Europe, North America
Languages: Danish, English, French, German, Norwegian, Spanish, Swedish
Country: USA
Continent: North America

Email: erik.brattberg@theglobalexperts.org
Erik Brattberg is a Visiting Fellow at the Center for Transatlantic Relations at the Paul H. Nitze School of Advanced International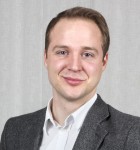 Studies at Johns Hopkins University in Washington D.C. He is also a Research Associate at the Swedish Institute of International Affairs, Stockholm.His research interests include European foreign and security policy, global security governance and transatlantic relations.

His previous experience includes research positions with the European Policy Centre, Brussels; European Council on Foreign Relations, London; Global Public Policy Institute, Berlin; and Hudson Institute, Washington, DC. He has also gained professional experience from the Permanent Mission of Sweden to the United Nations, New York; International Law Institute, Washington, DC; as well as Folke Bernadotte Academy, a Swedish government agency devoted to international conflict and crisis management.
Brattberg has published in academic journals such as European Security, Journal of Homeland Security and Emergency Management and Journal of Contingencies and Crisis Management and various media outlets such as Washington Post, European Voice, World Politics Review and Svenska Dagbladet.
A Fulbright and Marcus Wallenberg Scholar at Georgetown University's Edmund A. Walsh School of Foreign Service, Erik Brattberg holds an M.A. and B.A. in Political Science from Uppsala University. He has also attended the University of Maryland, College Park, as a visiting graduate student and has studied international relations at the University of Tuebingen, Germany.