Associate Professor of Islamic Studies, Duke University
Area of Expertise: Law and Human Rights, Women's Rights
Geographical Expertise - Region: Asia, North Africa and Middle East, North America
Geographical Expertise - Country: India, Pakistan
Languages: Arabic, English, Hindi
Field of Work: Academia, Author/Novelist, Journalist/Commentator, Law, Think tank/Research center
City: Durham
Country: USA
Continent: North America

Email: ebrahim.moosa@theglobalexperts.org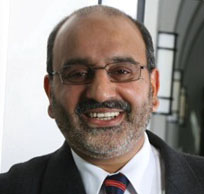 Professor Ebrahim Moosa is Associate Professor of Islamic Studies in the Department of Religion and Associate Director (Research) of the Duke Islamic Studies Center at Duke University, North Carolina, USA.
He has extensive expertise in Islamic law and Muslim theology.  He has published widely on these topics as well as on bioethics and contemporary Islamic thought ranging from human rights, gender and political thought.
Professor Moosa has also published widely on medieval Islamic thought, with special reference to the major thinker al-Ghazali. He moves effortlessly between classical and modern Islamic thought, which together with his intimate knowledge of contemporary Muslim societies, gives his insights a particular poignancy, refinement and depth.
Professor Moosa is also an advisor and policy consultant for several distinguished American and international law firms. He has in-depth knowledge of several Islamic countries and travels to these places regularly to be updated on issues. He is a widely sought after public speaker in the US and abroad.
Professor Moosa earned his alimiyya degree specializing in Islamic Studies and Arabic Studies from Darul Uloom Nadwatul Ulama, one of India's foremost Islamic seminaries in the city of Lucknow, Uttar Pradesh. Prior to that he also studied for more than two years at Darul Uloom Deoband. He also has a BA degree from Kanpur University, and a postgraduate diploma in journalism from the City University in London. He earned his MA (1998) and PhD (1995) from the University of Cape Town.
As a journalist he wrote for Arabia: The Islamic World Review, the reputable international weekly, Middle East Economic Digest and Afkar/Inquiry magazines in Britain, and later became political writer for The Cape Times in South Africa. His op-ed pieces have been published in leading US and international newspapers and specialized journals, including The New York Times, The Atlanta Journal-Constitution, The Straits Times in Malaysia, and The Star in South Africa among others.
He is the author of prize-winning Ghazali and the Poetics of Imagination (University of North Carolina Press, 2005) awarded the Best First Book in the History of Religions, by the American Academy of Religion. He is also the editor of the last manuscript of the late Professor Fazlur Rahman, Revival and Reform in Islam: A Study of Islamic Fundamentalism (Oxford: Oneworld, 2000).
Previously he taught at the University of Cape Town's Department of Religious Studies in his native South Africa for almost a decade until 1998 and was visiting professor at Stanford University prior to joining Duke in 2001.
Currently he is completing a monograph entitled Muslim Ethics After Empire: Text, Tradition and Technology. Professor Moosa examines the way religious traditions encounter modernity and in the process generating new conceptions of history, culture, ethics and politics. He gives special attention to the ways in which Muslim societies are adapting or resisting social change in both democratic and non-democratic contexts. Another book entitled Between Right & Wrong: Debating Muslim Ethics is also under preparation as is Spirals of Learning: Journeys Inside Madrasas, which is a combination of history, ethnography and memoir on primarily the state of seminaries, madrasas in India and Pakistan and to a lesser extent Bangladesh. In these works, he explores some of the major challenges that confront a tradition-in-the making like Islam encounters in a rapidly changing world. How do Muslims who are located in very different settings deal with history, ethics and law produced under radically different conditions? The political and historical settings against which Islam functions in the modern world are carefully addressed in these forthcoming books.
Professor Moosa serves on several distinguished international advisory boards and continues to interact with communities and role-players in the Muslim world and beyond. He advised the first independent government after apartheid on Islamic affairs and serves on committees of the Organisation of Islamic Conference, and also served on an ad hoc committee on Islamic governance led by former United Nations special envoy Mr. Lakhdar Brahimi and Mr. Iqbal Riza, former chief of Mr. Kofi Anan's office in New York, in addition to other consultancy positions he held. He also has extensive experience in human rights activities, and was named Carnegie Scholar for 2005.