Director of Current Affairs, Link TV
Area of Expertise: Media, Migration and Integration, Minority Rights
Geographical Expertise - Region: North Africa and Middle East, North America
Geographical Expertise - Country: Israel
Languages: English, Hebrew
Field of Work: Journalist/Commentator
City: San Francisco
Country: USA
Continent: North America

Email: david.michaelis@theglobalexperts.org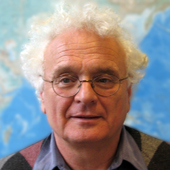 David Michaelis is Director of Current Affairs for Link TV, San Francisco, and serves on the Board of Directors for Internews Network.
With Internews, he created the first satellite two-way link between Tunis and Jerusalem, in October 1993. Mr. Michaelis also helped produce, with the Jerusalem Film Institute, the Palestinian Broadcasting Conference held in Jerusalem in January 1994.
Born in Jerusalem in 1945, Mr. Michaelis studied at Hebrew University and received his degree in philosophy and sociology. He has produced and directed documentaries on socio-political issues for the BBC Channel 4 in the UK as well as for ARD and ZDF in Germany. Mr. Michaelis served as a news editor in London and Washington for ARD. His work on various talk shows and documentaries has always been at the forefront of legitimizing the rights of minorities in Israel.