Founder and President of Peaceworks Holdings LLC
Area of Expertise: Business and Globalization, Law and Human Rights, Migration and Integration
Geographical Expertise - Region: Europe, North Africa and Middle East, North America
Geographical Expertise - Country: Israel, Palestine
Languages: English, French, Hebrew, Japanese, Spanish, Yiddish
Field of Work: Activist/Humanitarian, Law
City: San Antonio
Country: USA
Continent: North America

Email: daniel.lubetzky@theglobalexperts.org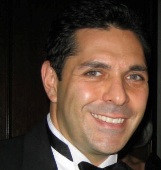 Daniel Lubetzky is Founder of the PeaceWorks Foundation's OneVoice Movement, empowering moderate Israeli and Palestinian citizens to seize back the agenda for conflict resolution.
He is Chairman of PeaceWorks Inc, pursuing both peace and profit through joint ventures among neighbors striving to coexist in conflict regions and co-Founder of Maiyet, a luxury fashion brand that partners with artisans in places like Colombia, India, Italy, Kenya, Mongolia, Peru & South Africa. He is also CEO of KIND Healthy Snacks.
Born and raised in Mexico City, Mr. Lubetzky received his B.A. in Economics and International Relations, magna cum laude, from Trinity University, and his J.D. from Stanford Law School.  Fluent in Spanish, English, Hebrew and French, Mr. Lubetzky has lectured at several universities, as well as the World Economic Forum, the World Bank, and the United Nations.
In 1997 he was selected by the World Economic Forum as one of 100 Global Leaders for Tomorrow (GLT) and ten years later as a Young Global Leader.
He is recipient of several awards, including the World Association of NGOs Peace Security and Reconciliation Award, the Catholic Theological Union's Peace-Makers Award, and the Skoll Award for Social Entrepreneurship.
In 2009, TIME Magazine named him among 25 "Pioneers" of social innovation and BusinessWeek named him among "America's Most Promising Social Entrepreneurs."  In 2010, Entrepreneur Magazine selected him as Entrepreneur of the Year.