UN Youth Expert, Bridge the Gap Executive Director and Host
Area of Expertise: Civil Society, Development, Migration and Integration, Youth Issues
Geographical Expertise - Region: North America, Subsaharan Africa
Geographical Expertise - Country: Somalia
Language: English
Country: USA
Continent: North America

Email: chris.bashinelli@theglobalexperts.org
Chris Bashinelli is a United Nations Youth Expert and the executive producer and host of Bridge the Gap, a television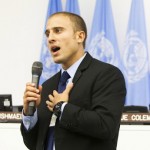 series that fosters intercultural dialogue by highlighting stories of everyday life from the around the world on film.
Chris travels the world as a Youth Expert for the United Nations, meeting with people and finding out what issues matter to them most. He's spoken in the UN General Assembly Hall with Secretary General Ban Ki-moon, at conferences in Azerbaijan, Brazil and in Qatar. Most recently Chris moderated the United Nations International Day of Peace with Dr. Jane Goodall, Michael Douglas, and Stevie Wonder.
As EP and Host of the internationally recognized series, Bridge the Gap, Chris has traversed the globe from Tanzania to Thailand. He's harvested Buffalo with American Indians in Pine Ridge, walked miles for clean water in Haiti, ran from venomous bees while farming honey in Uganda, and worked side by side with individuals from countless corners of the Earth.
He's worked with UN Ambassadors and has partnered with international NGO's including the Jane Goodall Institute and Do Something.org. He's interviewed people like Paleontologist Richard Leakey, NBA Superstar Dikembe Mutombo and Ice Cream legends Ben Cohen and Jerry Greenfield.
As an actor, Chris has appeared on everything from The Sopranos on HBO to An Inconvenient Truth Special with Al Gore on MTV. Chris is an Eagle Scout and holds a BA in Theatre Arts from Marymount Manhattan College where he graduated Cum Laude. He is 25 years old.