Principal Representative, United Nations Bahá'í International Community
Area of Expertise: Law and Human Rights, Religion, Women's Rights, Youth Issues
Geographical Expertise - Region: Asia, North America
Geographical Expertise - Country: India
Languages: English, Hindi
Field of Work: Non-Governmental, United Nations
City: New York
Country: USA
Continent: North America

Email: bani.dugal@theglobalexperts.org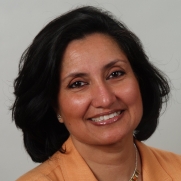 Bani Dugal is the Principal Representative of the Bahá'í International Community to the United Nations. She is a human rights expert, and has devoted her career towards advancing the rights of women and children, and promoting freedom of worship around the world.
As part of the community of international NGOs at the United Nations, she currently serves on the Executive Committees of the NGO Committee on Human Rights and is the President of the NGO Committee on Freedom of Religion or Belief, as well as a past Chair of the NGO Committee on the Status of Women. She has also served as Chair of the Global Forum of the NGO Committee on UNICEF, member of the Steering Committee of the NGO Committee on UNICEF's Working Group on Girls, Convener of the NGO Committee on UNIFEM, and Convener of the Advocates for African Food Security.
Prior to being appointed Principal Representative, Ms. Dugal served as Director, Office for the Advancement of Women at the Bahá'í International Community.
Notable amongst the many high level events in which she has been invited to speak include: the October 2006 Conference commemorating the 1981 UN Declaration on Religious Tolerance and Non-Discrimination: Implementing Its Principles after Twenty-five Years; the July 2005 Conference on Interfaith Cooperation for Peace, which was hosted by the Tripartite Forum, a convening group comprised of representatives from 17 member states, the World Bank, UNESCO, the UN Department of Economic and Social Affairs (DESA) and the Committee of Religious NGOs at the United Nations; at the Thirty-Year UN Observance Promoting Gender Equality on International Women's Day, Ms. Dugal was invited to speak at a panel with senior UN officials and women Nobel Peace Prize Laureates;  at the International Conference on Gender Mainstreaming and Millennium Development Goals in Pakistan in March 2005, she made a presentation on the women's role in conflict prevention, resolution and peace-building.  That same year, Ms. Dugal represented the Bahá'í International Community at the World Economic Forum in Davos, Switzerland where she was invited to participate as a religious leader and women's leader and spoke at three events.
Ms. Dugal has worked at the New York State Department of Environmental Conservation and holds a Masters degree (LL.M) in Environmental Law from Pace University School of Law, New York and a law degree (LL.B) from the University of Delhi, India. Prior to relocating to the U.S. in 1988, she practiced law before the Supreme Court of India.