President, Appeal of Conscience Foundation
Area of Expertise: Law and Human Rights, Religion
Geographical Expertise - Region: Asia, Europe, North America
Geographical Expertise - Country: China, Russia
Language: English
Field of Work: Religious Leader
City: New York
Country: USA
Continent: North America

Email: arthur.schneier@theglobalexperts.org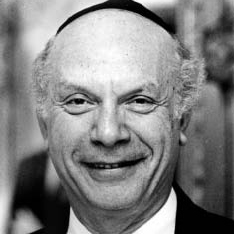 Rabbi Arthur Schneier is internationally renowned for his leadership on behalf of religious freedom, human rights, and inter-religious dialogue. As a Holocaust survivor, Rabbi Schneier has spoken with such prestigious figures as Pope John Paul II and Pope Benedict XVI on the importance of religious freedom and inter-religious dialogue.
Since 1981, Rabbi Schneier has been involved with efforts to strengthen ties between religious communities in China, the United States, and various parts of Europe and Central Asia. As a U.S. Alternate Representative to the UN General Assembly and chairman of the U.S. Commission for the Preservation of America's Heritage Abroad, Rabbi Schneier was one of three American religious leaders appointed by President Clinton to start the first dialogue on religious freedom with China's President Jiang Zemin in 1998.
In his efforts involving China and the United States, Rabbi Schneier led the Appeal of Conscience Foundation delegations to China to strengthen ties between religious communities in these two countries. His efforts in Russia, the Former Soviet Union, and Eastern Europe include over 68 inter faith missions.
One of Rabbi Schneier's greatest achievements was convening the Religious Summit on the Former Yugoslavia in Switzerland in 1992 and the Conflict Resolution Conference in Vienna in 1995, which mobilized religious leaders to halt the bloodshed in the former Yugoslavia. He also initiated the Peace and Tolerance Conferences on the Balkans, Caucasus, and Central Asia in Istanbul, Turkey in cooperation with the Ecumenical Patriarch Bartholomew I (1994, 2005).
His work has also been disseminated abroad through his founding of the Appeal of Conscience Foundation in 1965. This organization, of which he is the current President, is a partnership of leaders from various faiths who work together for the promotion of peace and tolerance. Rabbi Schneier is also the spiritual leader of New York's Park East Synagogue and has been since 1962. He is also a member of the U.S. Delegation to the Stockholm International Forum for the Prevention of Genocide (held in Sweden in 2004), the Council on Foreign Relations, the Asia Society, and the United States Holocaust Museum Committee on Conscience.
Because of his work involving inter-religious dialogue and the promotion of peace and tolerance among ethnic groups, Rabbi Schneier received the Presidential Citizens Medal from President William J. Clinton. He received this award for "his service as an international envoy for four administrations" and as a Holocaust survivor, "devoting a lifetime to overcoming forces of hatred and intolerance."
Rabbi Schneier received his primary education with Matura at Real Gymnasium1, Vienna and his B.A., ordination, and Doctorate of Divinity from Yeshiva University in New York. He is the recipient of ten honorary doctorates from U.S. and foreign universities. Additionally, Yeshiva University established the Rabbi Arthur Schneier Center for International Affairs in 2004 in his honor.
His areas of expertise have led Rabbi Schneier to appear on major networks and in the print media in the United States, China, Russia, Austria, Hungary, and Europe, including on Larry King and the Al-Jazeera network. He is also frequently quoted by The New York Times and other publications.
Rabbi Schneier's awards include The Grand Decoration of Honor in Gold with Star for Service to the Republic of Austria, Order of the Republic of Hungary, Order of St. Daniel of Moscow, Karl Renner Prize (Vienna), and the U.S. Department of State Special Recognition Award.
A native of Vienna, Austria, Rabbi Schneier is married to Elisabeth Nordmann Schneier with whom he has two children, Karen Dresbach and Marc Schneier, and four grandchildren.