Professor of Religious Studies, University of Virginia
Area of Expertise: Media, Migration and Integration, Religion, Youth Issues
Geographical Expertise - Region: Asia, North America
Geographical Expertise - Country: India
Languages: Arabic, English, French
Field of Work: Academia
City: Charlottesville
Country: USA
Continent: North America

Email: abdulaziz.sachedina@theglobalexperts.org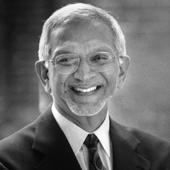 Professor Abdulaziz Sachedina is an expert in interfaith relations and religious affairs, especially related to Islam.
An American citizen who was born in Tanzania and received his PhD from the University of Toronto, Professor Sachedina has studied in India, Iraq, Iran, and Canada, providing him with a diverse range of educational experiences.
Professor Sachedina has been conducting research and writing in the field of Islamic Law, Ethics, and Theology (Sunni and Shiite) for more than two decades. In the last ten years, he has concentrated on social and political ethics, including interfaith relations and Islamic biomedical ethics.
Currently, Professor Sachedina is a Frances Myers Ball Professor of Religious Studies at the University of Virginia, Charlottesville. He has published numerous works which discuss Islam in relation to human rights and interfaith relations.