Associate Professor of Political Science, Duke University
Area of Expertise: Migration and Integration, Religion, Terrorism, Women's Rights, Youth Issues
Geographical Expertise - Region: Europe, North Africa and Middle East, North America
Languages: Arabic, English, French
Field of Work: Academia
City: Durham
Country: USA
Continent: North America

Email: abdeslam.maghraoui@theglobalexperts.org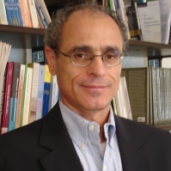 Professor Maghraoui is Associate Professor of Political Science at Duke University and a core faculty member at the Duke Islamic Studies Center.
Professor Maghraoui focuses his research on religion, political reform and political violence in the Middle East and North Africa. He carried out fieldwork frequently in both regions and has been called on multiple occasions to provide testimony to various US government agencies regarding his areas of study, and has been featured on American and international TV and radio programs.
Before his work as a professor, he was Director of the Muslim World Initiative at the US Institute of Peace where he conducted policy research and developed programs focused on religion and peace, inter-faith dialogue, European Muslim youth and radicalization, and religious reform in the Muslim world.
Professor Maghraoui has a PhD in politics from Princeton University.